How to Choose the Best App to Learn German
Are you looking for the best app to learn German? In this article, we explain how to learn German online and provide several recommendations for the best apps to help you achieve fluency in the most enjoyable way possible.
To learn German online, all you need is a smartphone with a connection to the internet and determination to turn your free time into moments of learning. But first, let's discuss the common attributes all effective apps for learning German share.
Choosing the Best App to Learn German
Being the most widely spoken mother language in the European Union, German attracts language learners from around the world, but they don't all have time and money to attend language classes or hire a private tutor.
The good news is that they don't need to because there are many German learning apps that provide convenient access to a wealth of learning material, ranging from grammar explanations to vocabulary to authentic texts, audio clips, and videos.
But the truth is that not all learn German apps are equally effective. Here are three main attributes all effective language learning apps should have:
Great content: For a language learning app to be worth your time, it needs to have great content that's appropriate for your current proficiency level. The best apps mix different types of content to make the learning experience more engaging, and some even let learners add their own content and create customized learning sessions.
Ease of use: Learning a new language is never easy, so you should choose an app that doesn't make it even more difficult by being unintuitive.
Affordable pricing: There's no reason to spend a lot of money to learn German on your mobile device considering that there are many great apps that don't cost nothing at all, or just a small fraction of what you would pay to attend a language class.
Best Apps to Learn German
We took it upon ourselves to find the best apps for learning German, and here's what we found. Because each of the selected apps offers a slightly different approach to language learning, we encourage you to try them all and decide for yourself which of them work best for you.
There are several reasons why Encore!!! is the best app to learn German. For starters, its library contains over 12,000 entries and 3,000 unique words, which are organized into customizable playlists. As a learner, all you need to do to practice German is to pick a pre-made playlist and start practicing verb conjugations, greetings, common topics of conversation, grammar points, and more.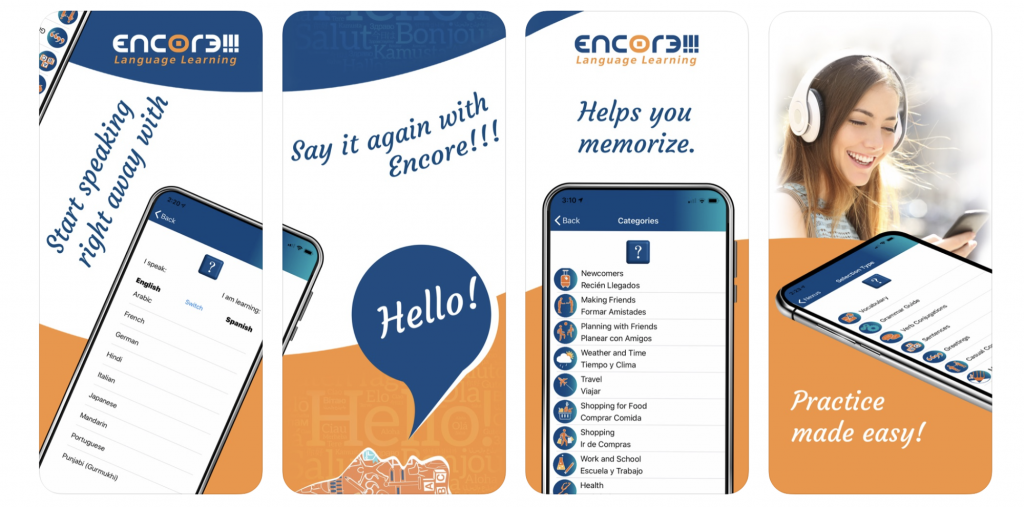 Encore!!! uses the unique TARPP approach (Text and Audio Repetitions through Playlist Practice) to language learning to create an immersive learning experience that takes advantage of the language the learner already knows to help him or her learn the target language.
In practice, an English speaker learning German will hear the content in English (L1) once and then be asked to select the number of times the L2 content will be played. After the initial setup, no other input is required so learning can happen even when commuting to work or cooking dinner.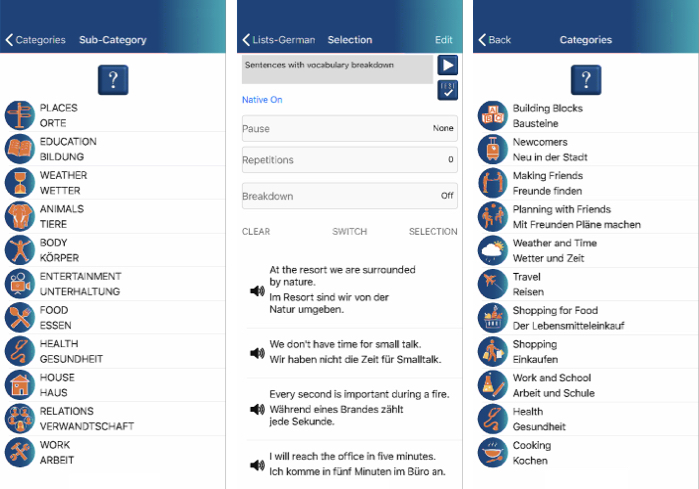 If you're looking for the best way to learn German online that prioritizes immersion above everything else, then the Rosetta Stone app is worth looking into. The company behind it has been around for more than two decades now, and its products are used by governments and organizations around the world.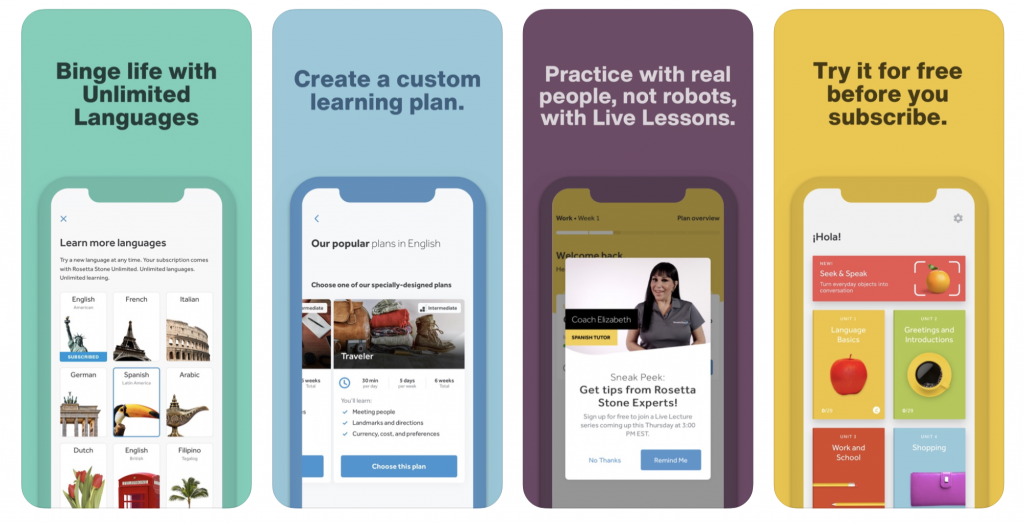 The Rosetta Stone Android and iPhone app delivers a variety of speaking-focused lessons, including instantaneous pronunciation feedback with TruAccent and contextual learning, on a subscription basis. It costs $11.99 per month for three months of using this app, but there are several discounted plans on offer as well.
Der Tagesspiegel is one of the best apps to learn German for advanced learners who want to go beyond learning individual words and phrases. That's because it provides convenient access to one of Germany's most popular newspapers, allowing you to read news, exciting investigative reports, interviews, and other content right on your mobile device.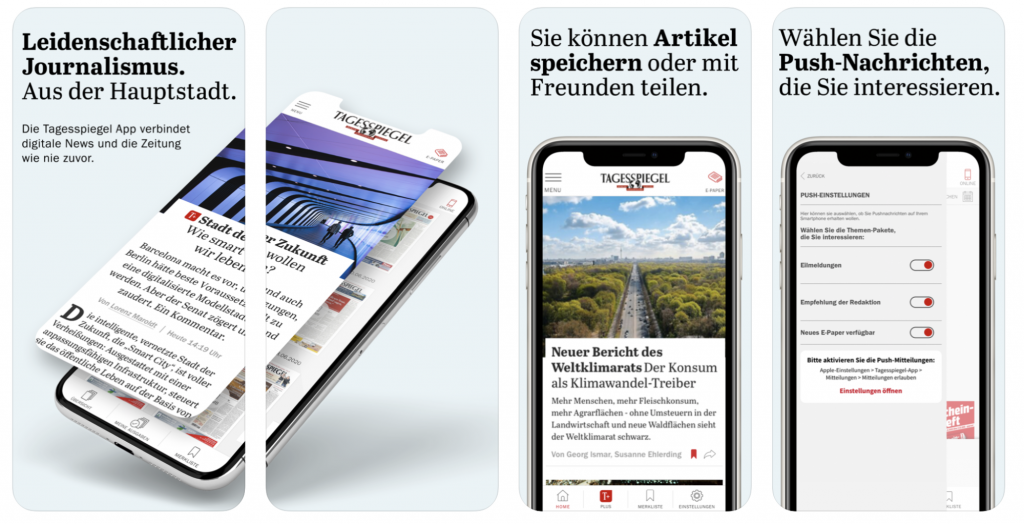 By reading a newspaper like Der Tagesspiegel, you can not only take your language skills to the next level but also learn about German culture and current events. The more you understand about life in Germany, the easier it will be to use German in real life when discussing a variety of different topics.
Duolingo offers a gamified learning experience that lets you earn virtual coins, unlock new levels, and watch your fluency score rise as you master new words, phrases, and grammar. You can access all core content for free with ads and upgrade to Duolingo Plus to unlock extra features, remove ads, and show your support.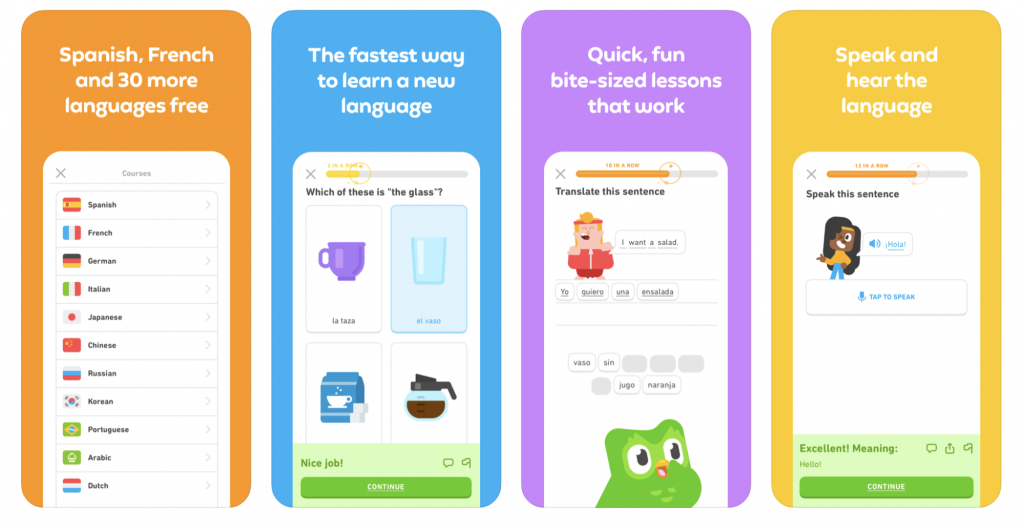 According to Duolingo developers, 34 hours of Duolingo are equal to 1 university semester of language courses, making the app one of the fastest ways to learn German. Just don't expect it to help you reach complete fluency because it's aimed primarily at beginners.
Articles are one of the most difficult challenges for all German language learners, but Der Die Das makes learning them fun by providing interactive quizzes, useful grammar tips, and a large selection of bite-sized lessons that don't take much time to complete.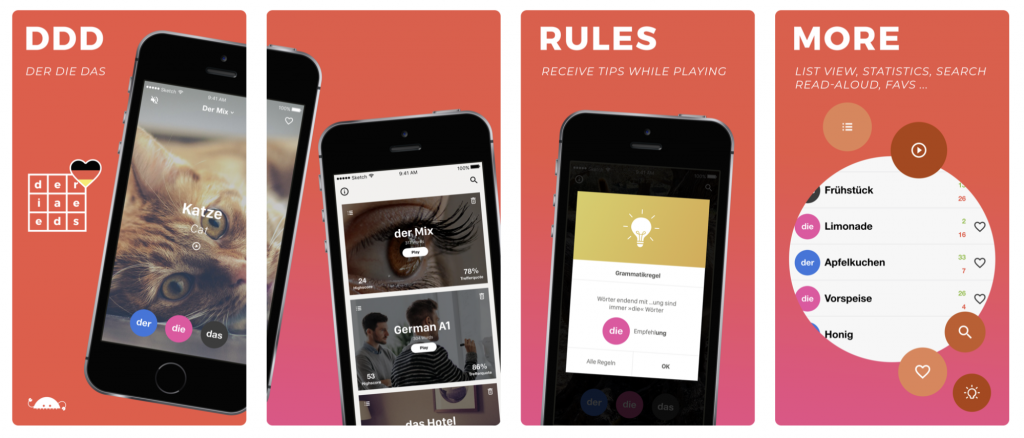 Der Die Das has a useful search function that lets you go through 25,000 words. You can even mark words that you would like to learn later as favorites with a simple tap. The entire app works offline, so you don't even need internet access to use it.
Conclusion
The best app to learn German is the one you enjoy the most and look forward to using every single day. Of course, it's also important for the app to have great content, which is why we selected Encore!!! as our top pick. Use it to practice on a regular basis, and you're guaranteed to reach your goal in no time.
FAQ
Is German hard to learn?
For English speakers, German isn't particularly hard to learn, but there are certain linguistic features that can be rather challenging to overcome, including the unusual grammar structure, its absurdly long compounds, or its articles.
How long does it take to learn German?
According to the Foreign Service Institute (FSI) learning German will take an English speaker approximately 30 weeks (750 hours). Of course, some learners naturally progress faster than others, especially those that equip themselves with the best app for learning German.
Can I learn German by myself?
Yes, you can definitely learn it by yourself. All you need is a German language learning app like Encore!!!, and you can start today.
What is the fastest way to learn German?
Most for learners, the fastest way to learn German is the one that's also most engaging. Many people enjoy the convenience of mobile apps because they allow them to study anywhere and at any time.
Is it possible to learn German in 6 months?
Yes, you can become moderately proficient in just six months if you choose the right approach and diligently practice every day.