Encore!!! App – Best Duolingo Alternative To Master a Language
Duolingo is one of the most popular language learning apps in the world, but is it the best? In this article, we are taking a closer look at a rising Duolingo alternative called Encore!!!, whose innovative approach makes learning immersive, engaging, and highly effective. Knowing the differences between Duolingo and Encore!!! will help you select the right app based on your personal preferences and needs.
What Is Duolingo?
Launched in 2011, the Duolingo app is currently one of the most popular language learning apps in the world—if not the most popular. You can see it at the very top of many lists featuring the best language learning apps, and for a good reason.
At the time of writing this article, Duolingo offers nearly 100 language courses in 38 languages, making it incredibly versatile and suitable for all kinds of language learners. No wonder then that it has over 300 million registered users, many of which pay for Duolingo's premium subscription, called Duolingo Plus (more about it later).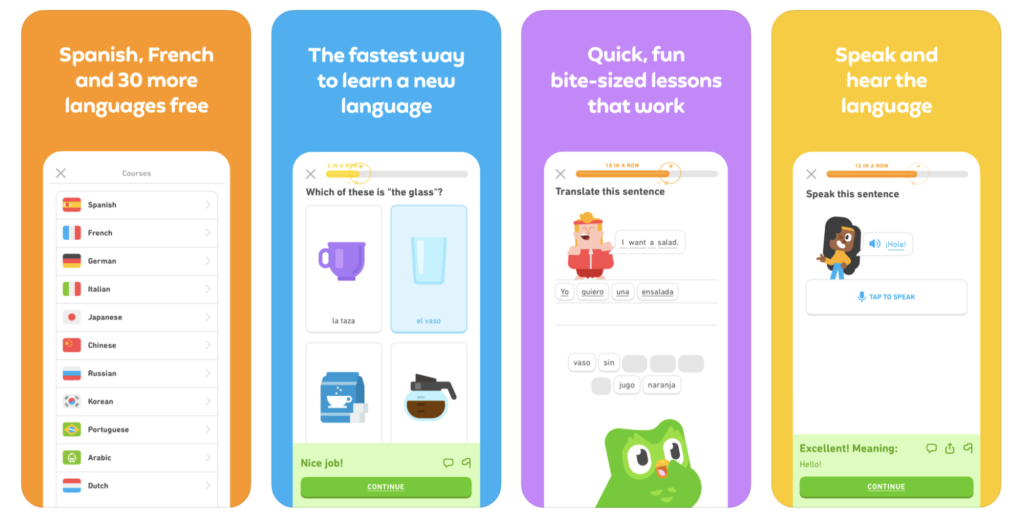 Duolingo owns much of its success to making language learning fun and addictive by pouring gamification elements into every lesson. All language content is divided into increasingly challenging levels, and players earn virtual coins, increase their fluency score, and unlock new levels by completing them.
The content of each level is dynamically adjusted based on the personal learning style and performance of each learner to enhance retention. Duolingo developers claim that 34 hours of Duolingo are equal to 1 university semester of language courses.
What Is the Encore!!! App?
Encore!!! is quickly emerging as one of the most noteworthy Duolingo alternatives available for iOS and Android devices. The goal of Encore!!! is to immerse language learners in high-quality language content and help them reach intermediate fluency in just 38 weeks by completing one lesson per week.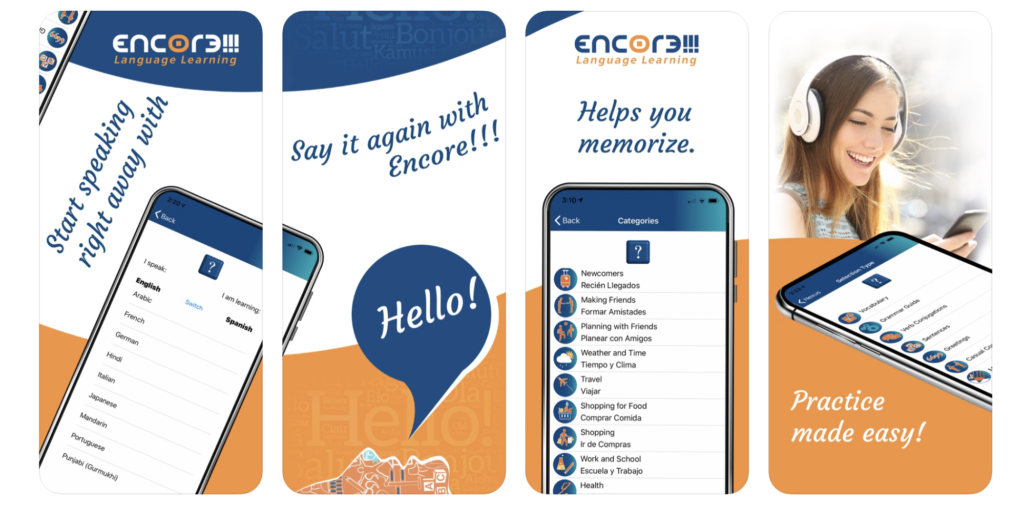 At the core of this alternative to Duolingo is the L1-L2 method of language learning, which uses the learner's first language to teach their target language, much like real language teachers do in most beginner and intermediate language classes. Encore!!! users also have the option to focus solely on their target language, which can be useful when reviewing already learned material.
The entire Encore!!! content library is available in 15 languages (Arabic, French, German, Hindi, Italian, Korean, Japanese, Mandarin, Punjabi, Spanish, Turkish, Dutch, Indonesian, Russian, Portuguese), and it consists of pre-made lesson plans that include vocabulary, greetings and useful phrases, verb conjugations, sentences with related vocabulary, and conversations spoken by native speakers.
Duolingo vs. Encore!!! Which Language Learning App Is Better?
Comparing two language learning apps is always difficult because all learners have different priorities and preferences. To make our comparison as objective as possible, we've decided to break it down into three categories.
Effectiveness
Is Duolingo effective? Sort of. If you spend some time reading Duolingo reviews, you're guaranteed to notice a pattern: reviewers agree that the app is effective for learning foundational vocabulary but not effective for grammar and more advanced sentence structures.
That's because Duolingo language courses are split into bite-sized lessons that use spaced repetition to reinforce the knowledge of individual words. While some activities require users to arrange multiple words into sentences, the educational value of these activities is limited because their structure tends to be highly repetitive. What's more, learners always have plenty of cues available (a word with a period at the end that clearly belongs at the very end), and their presence can create an illusion of mastery.
Encore!!!, on the other hand, is all about reinforcement learning through repetition. You can listen to individual words, phrases, and sentences as many times as you need before you become able to produce them without any help. When you feel that you've mastered a lesson, you can test your knowledge by reviewing its content in random order.
This simple approach is so effective that most people can reach intermediate fluency in 38 weeks by completing just one lesson per week. What's more, Encore!!! lets users add their own content and go beyond the lessons included with the app.
Winner: Encore!!!
Features
The number of Duolingo languages is much higher (38) than the number of languages supported by Encore!!! (15). This is understandable considering how much longer has the former app been available. But what about language learning features?
Well, that's sort of like comparing apples to oranges. Duolingo is all about gamification (the application of game-design elements for the purposes of language learning), and its features reflect this. For example, the app keeps its users motivated with rewards for correct answers, timed activities, and daily reminders.
The same gamification elements extend to Duolingo for Schools, which is a special version of the app whose purpose is to help students and educators to get the most out of their time together in the classroom or when practicing at home.
Instead of gamifying language learning, Encore!!! is all about perfecting tried and tested methods and updating them for the 21st century. Its massive content library contains words and sentences organized for a beginner to gradually reach an intermediate level, and users can learn lesson by lesson or create their own customized plans with personalized content.
Winner: Tie
Value
Both Duolingo and Encore!!! are free apps offering premium subscription options. Duolingo Plus subscription costs $9.99 a month and offers users ad-free lessons, offline access, the ability to download lessons in the app for offline use, and more.
Encore!!! charges $2.99 per language per month to unlock full audio content, customized playlists, and the My Entries function (which lets users add their own content). The good news is that the free version of Encore!!! comes with full text and audio content of 5 free playlists to use with full capabilities, such as repeat, pause, and test.
Winner: Tie
Free version
Price
Languages supported
Platforms
Ability to add your own text and audio content
Ability to make playlists with entries that can be repeated as many times as you like
Gamification elements
Customize the pause between words and phrases
Ability to add lyrics, poems, scripts, exam items to personalize your content
$2.99 per language per month
Duolingo Plus costs $9.99 a month
Conclusion
Duolingo deserves all the praise it gets, but its approach isn't for everyone. Fortunately, there's an alternative that focuses on immersion, and its name is Encore!!! If the idea of mastering a language the way learners do when they move to a foreign country sounds appealing to you, then you should definitely give it a try and see what it's all about.
FAQs
Is there a better app than Duolingo?
All language learners are different, and not everyone enjoys the highly gamified and repetitive approach offered by Duolingo. Those who prefer a more immersive and customizable learning experience should consider the Encore!!! app, which is one of the best alternatives to Duolingo for iOS and Android.
Is there a free version of Duolingo?
Yes, there is, and it gives users access to most features and content except for the ability to download lessons in the app for offline use, unlimited skill test-outs, monthly streak repair, Progress/Mastery Quizzes, and a few other things.
Will Duolingo make you fluent?
No, all languages stop at the lower intermediate level, and users are expected to either transition to a more advanced language learning app or join a language class.
What can I use instead of Duolingo?
You have many different options when it comes to Duolingo alternatives. One highly effective Duolingo immersion alternative is the Encore!!! app, which stands out with its hands-free approach to language learning, allowing you to study anywhere and at any time.