Best App to Learn Mandarin Chinese
Learning Mandarin Chinese is one of the most difficult linguistic challenges any English speaker can undertake. To increase your chance of achieving fluency, you need to equip yourself with the best apps to learn Mandarin, like those listed in this article. Such apps can significantly increase your exposure to Mandarin Chinese by being with you wherever you go, always ready to turn any block of free time into a mini-lesson.
Why Are Mobile Apps Great for Learning Mandarin?
Let's face it: you live a busy life and barely have enough time for the things that matter the most in life, such as your family, friends, and loved ones. But despite being always pressed for time in your day-to-day life, you still have goals that you would like to accomplish, such as learning Mandarin Chinese.
Instead of saying goodbye to family dinners and fun weekends just so you can progress toward your goal, it's a much better idea to reclaim the time between work and fun. You may not realize it, but you probably spend more than an hour every single day just waiting. You wait for your morning bus to arrive, for you to reach the cash register, or for your spouse to get ready.
All this time represents a tremendous learning opportunity, but you need to be able to take advantage of it, which is where apps for learning Mandarin come in, allowing you to improve your language skills whenever you have a few minutes to spare.
How to Select the Best Mandarin Learning App?
Apps for learning Mandarin can be divided into multiple categories, such as language courses, podcasts, dictionaries, apps that teach Chinese characters, and more.
In each of these categories, there are both good and bad apps, and you need to be able to tell them apart to avoid wasting your time on apps that provide minimal learning value. Here's what you should look for when selecting the best app to learn Mandarin:
Content quality: By far the most important aspect of any educational software is the quality of its content. The last thing you want is to diligently study every day, only to discover that you've been learning phrases that native Chinese speakers would never use in real-life situations.
Usability: Studying a language should be fun. What's not fun is using an application with a poorly designed user interface and a lot of bugs that result in crashes and all kinds of other issues. The good news is that there are so many excellent applications to choose from that avoiding those that are aggravating to use shouldn't be a problem.
Customizability: All language learners are different, which is why customizability is so important. At the very least, you should be able to customize the duration and frequency of your study sessions and add content based on your personal interests.
Price: The saying "you get what you pay for" is more often than not true even when it comes to learning on mobile devices. You can't expect access to first-class content for free, but you can expect a free trial that lets you test what the app has to offer and how it works.
Compatibility: Obviously, you want the app to be compatible with your mobile device. It's a good idea to choose a Mandarin language app that runs on both iOS and Android since you can then study on any device you want.
Keep in mind these five selection criteria, and you should be able to select the best Mandarin app and start your learning journey on the right foot.
Top 5 Best Apps to Learn Mandarin
There's no shortage of excellent applications for learning the Chinese language, which means that narrowing them down can be a pain. Luckily for you, we've done all the difficult work for you, so you can simply pick any application from the list below and take your first steps toward fluency.
1. Encore!!!
Price: $2.99 per language per month
Encore!!! is the best app to learn Mandarin because it uses a highly effective L1-L2 method of language learning that presents new vocabulary, phrases, and grammar in an easily digestible way, combining the language you already know (English) with your target language.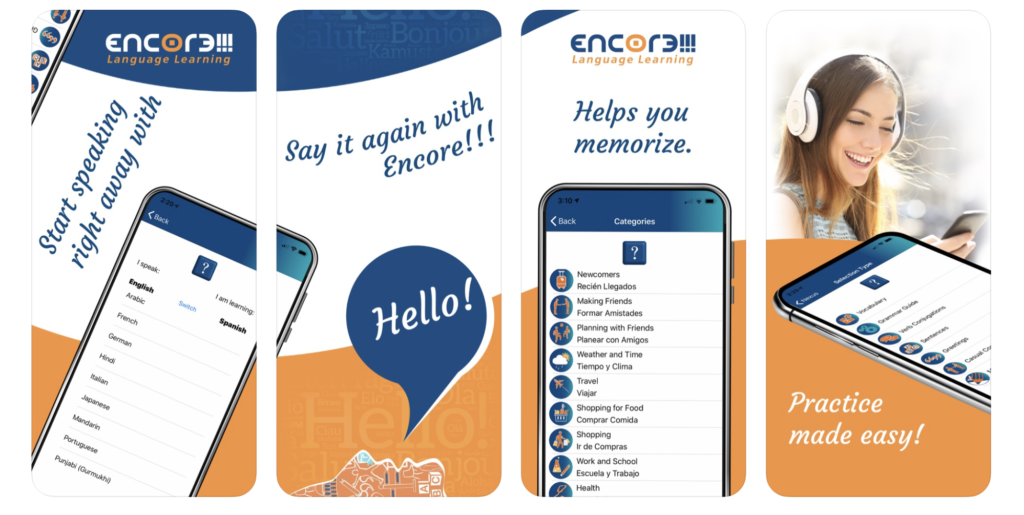 This learn Mandarin app is fully customizable, so you don't have to rely on its huge content library alone. If you want to, you can easily add your own content and create individualized plans that accurately reflect your unique needs and priorities.
Encore!!! is available both for iOS and Android devices, and you can test what the app is all about for free. It costs $2.99 per language per month to unlock its entire content library and all of its features.
Pros:
Cons:
• Effective language learning method
• Fully customizable
• Massive content library
• Easy to use
• Each language is sold separately
2. ChineseClass101
Price: from $8.00 a month
If you prefer a more traditional approach to studying a language, then ChineseClass101 might be the right application for you. This well-structured Mandarin course is intended to transform complete beginners into proficient speakers who would have no trouble navigating all kinds of everyday situations.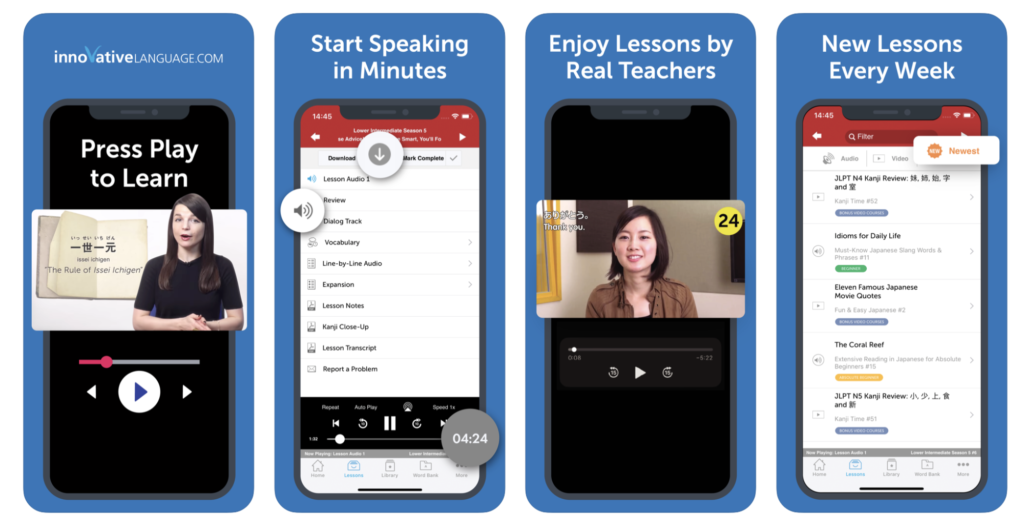 ChineseClass101 is a subscription-based learn Mandarin app that offers flexible subscription levels to fit your learning needs and budget. The least expensive level is called Basic, and it starts at $8.00 a month and includes unlimited access to all existing audio and video lessons plus two to four new lessons every week.
Pros:
Cons:
• Well-structured course
• Flexible subscription levels
• Native speakers
• Subscription-based
3. The Chairman's Bao
Price: from $10.00 a month
Regardless of if you're just starting to learn Chinese or are already someone proficient, The Chairman's Bao app can help you take your reading skills and vocabulary to the next level by providing access to graded news articles, which have been hand-picked based on their educational value and sorted into categories.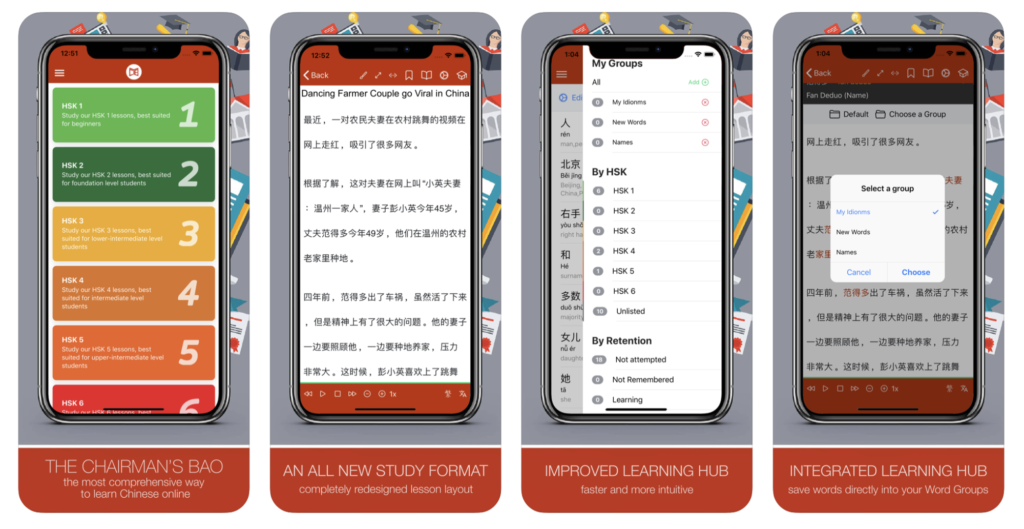 When you encounter a word that you don't know, you can look it up in the built-in dictionary and watch animated videos that show how to write individual characters. Once you've built a sizable vocabulary list, you can use the app's flashcard system to methodically study it.
Pros:
Cons:
• Hand-picked news articles
• Interactive dictionary
• Built-in flashcard system
• Doesn't cover all language skills
4. HelloChinese
Price: from $8.99 a month
HelloChinese is a Duolingo-style learning Mandarin app with gamification elements to make your study sessions more engaging and fun. This application is perfect for complete beginners who have little to no previous experience with the Chinese language and would like to discover what learning it is all about without making a huge commitment.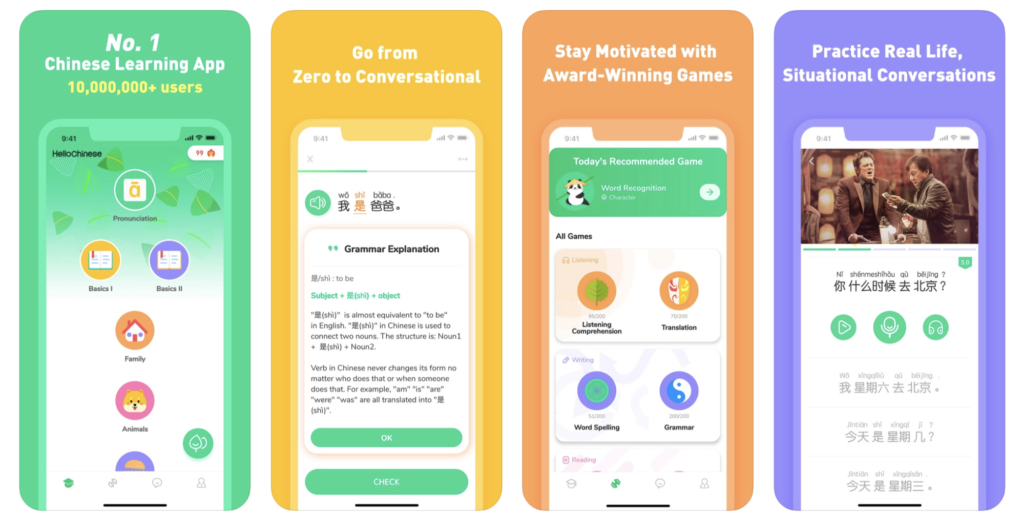 All content is divided into bite-sized lessons, each of which takes just a few minutes to complete. The lessons cover all main language skills, including reading, writing, speaking, vocabulary, and grammar. While you can install HelloChinese for free, you need to purchase one of its subscription plans to unlock everything it has to offer, including multiple mini-games to help reinforce what you've learned.
Pros:
Cons:
• Gamification elements to increase motivation
• Speech and handwriting recognition
• Bite-sized curriculum
• Limited customization options
5. Skritter
Price: from $14.99 a month
There's one thing all learners of Mandarin can agree on: it takes a lot of effort to become able to read and write Chinese characters. Skritter aims to make the study of the written aspect of Mandarin Chinese easier by providing a fun way to practice right on your mobile device—no pen and paper required.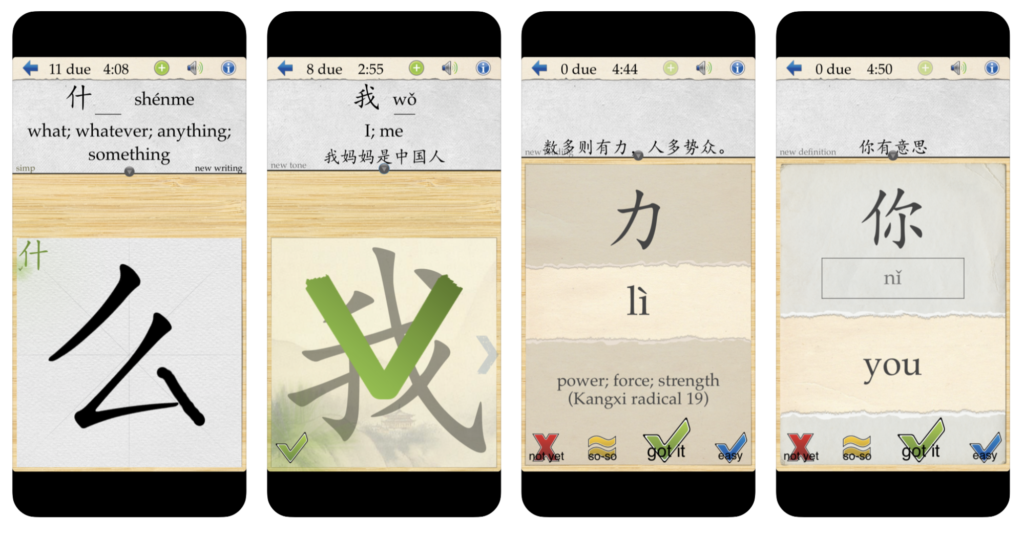 The app uses a spaced repetition algorithm to decide when it's the optimal time to review previously learned characters to ensure that you retain as many of them as possible. To enhance your comprehension, Skritter lets you draw the tone marks for each character, see the correct stroke order, or decompose complex characters into their individual building blocks.
Pros:
Cons:
• Great for learning the correct stroke order
• Also teaches listening and pronunciation
• Customizable study settings
• Expensive
Conclusion
By equipping yourself with the best app to learn Mandarin Chinese, you can maximize your daily exposure to the language and achieve fluency (or at least your desired level of proficiency) much faster than you ever could by relying on traditional language lessons alone. Regardless of which application you choose, remember that learning a language should always be fun, so don't hesitate to take it easy whenever you start feeling overwhelmed. After all, you're learning one of the most difficult languages in the world, which means that you need to pace yourself accordingly.
FAQs about the best apps to learn Mandarin
1. How long does it take to learn Mandarin?
That largely depends on how much time you want to dedicate to studying every day. On average, English speakers need to study for at least 2,200 hours to become fluent.
2. Is Mandarin really that hard to learn?
Mastering spoken Mandarin is actually not that difficult thanks to its simple grammar, but its written form is challenging because it relies on thousands of Chinese characters.
3. What is the best app to learn Mandarin fast?
To get quick results, you need an app that's fully customizable based on your unique needs and priorities, such as Encore!!!.
4. Can I learn Mandarin on my own?
Absolutely! There's nothing stopping from achieving fluency in any language on your own, but you need to choose the right approach and have the determination to stick with it.
5. How do I start learning Mandarin?
You can start learning Mandarin just by downloading one of the best learning Mandarin apps listed in this article to your mobile device.