Best Language Learning Podcasts in 2023
Looking for the best language learning podcasts in 2023? Regardless of if you're learning English, Spanish, Japanese, French, Russian, Italian, Mandarin, Arabic, German, or Portuguese, you'll find what you're looking for in this article. Make sure to check out the bonus section at the end because it describes a handy language learning tool, called Encore!!!, that can help you get the most out of podcasts, allowing you to learn new vocabulary and grammar more efficiently.  
What Kind of Podcasts Should You Listen to Learn a Language?
Language learning podcasts are great because you can listen to them anywhere and at any time, even when driving your car to work or doing the dishes in the kitchen. Unless you're learning some obscure language that's spoken only by a limited number of speakers, you'll be able to choose from many different podcasts covering a wide variety of topics.
On the one hand, having many podcasts to choose from is great because it means that you'll always have something to listen to, but you may also find yourself unsure about which one you should start with. Here are a few tips to help you select the right podcast:
Avoid podcasts that don't interest you: If you love, let's say, history, try to find a podcast that talks about the history of the country where the language you're learning is spoken. By listening to podcasts that naturally interest you, you'll be able to learn new grammar and vocabulary faster than you ever could by forcing yourself to listen to boring podcasts that don't interest you at all.
Pick the right length: Most people listen to podcasts during their commute to work or school, which means they always have roughly the same amount of listening time. If you have, for example, 30 minutes, you should pick a podcast that's approximately 30 minutes long so that you can comfortably finish an entire episode.
Consider your current language level: As a beginner, you should be listening to podcasts that use simpler vocabulary and are spoken at a slower rate. On the other hand, more advanced learners should pick podcasts that provide a healthy challenge by tackling more difficult subjects and including colloquialisms and regional expressions.
What we like the most about it: Luke's ability to bring comedy to language learning.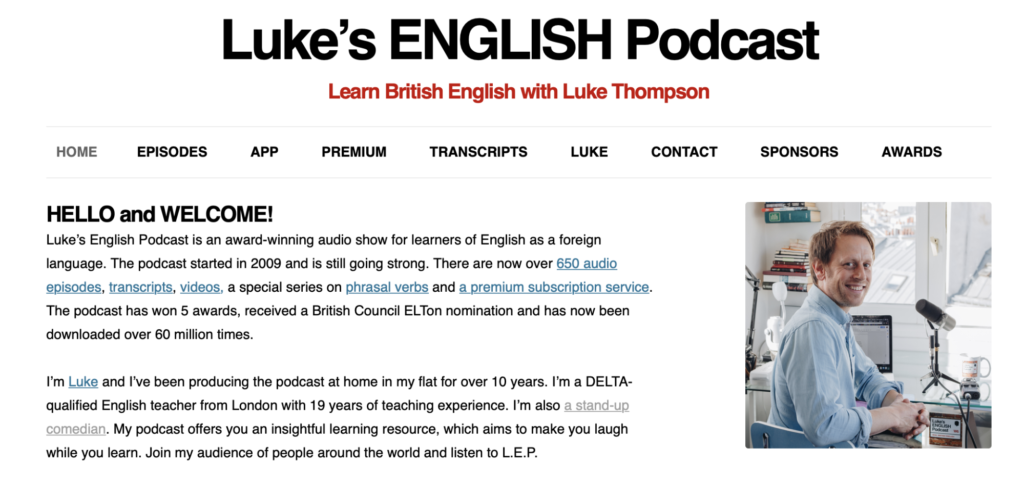 There's no shortage of great English learning podcasts, but you would be hard-pressed to find another one that's as likable as Luke's English Podcast. For more than a decade, Luke Thompson, an English teacher, podcaster, and comedian from London, has been creating highly engaging English audio lessons, along with full transcripts and videos. When listening to Luke's English Podcast, you're guaranteed to learn something new and have a laugh at the same time.
What we like the most about it: You can easily listen to it on your Android device.
There are some things all the best Spanish language podcasts have in common, such as likable hosts and interesting content, but only a few best podcasts to learn Spanish are suitable for beginners and available for free. Learn Spanish Podcast is among the best free Spanish podcasts for beginners because you can easily listen to it right on your Android device whenever you find yourself with a few minutes of spare time. Its lessons cover basic Spanish vocabulary, holidays, useful phrases for traveling, and more.
What we like the most about it: It makes it easy to learn natural Japanese.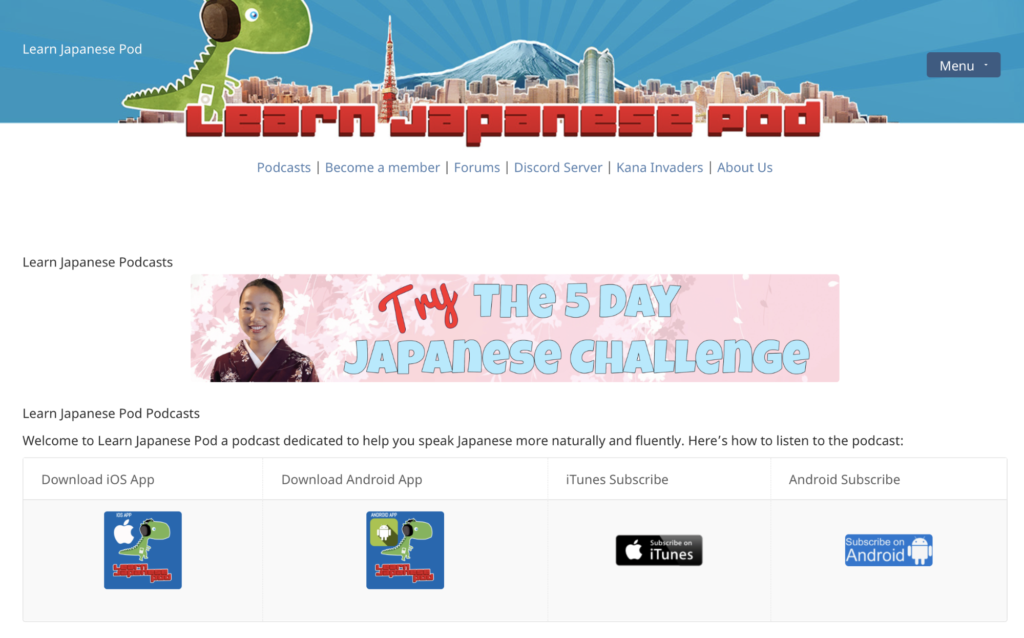 Learn Japanese Podcasts, or simply Learn Japanese Pod for short, is the best Japanese learning podcast for those who are interested in speaking Japanese more naturally and fluently. Many Japanese language podcasts, especially those aimed at less experienced learners, are full of textbook expressions that sound out-of-place in real-life, but not this one. Even when discussing topics like grocery shopping or job interviews, Learn Japanese Pod always remains natural. Most content is available for free, but you can also pay for premium courses if you want access to even more Japanese lessons.
What we like the most about it: Lets you hear real-life French in everyday conversations.
Learn French by Podcast is the best podcast to learn French because its lessons are intended for everyone from beginners to advanced learners and are accompanied by PDF lesson guides, which include full dialogue transcripts, grammatical explanations, vocabulary, cultural snapshots, and more. Just like most other best French language podcasts, Learn French by Podcast presents real-life French in everyday conversations, helping you get used to the way native French speakers use their language. All podcast episodes are available for free, but it costs money to unlock the accompanying lesson guides.
What we like the most about it: Slow enough even for beginners.
Slow Russian Podcast is a great choice for everyone who's interested not only in learning the Russian language but also learning about Russian culture, traditions, and daily life. Because the podcast is spoken at a really slow pace, even beginners who've been learning Russian for just a few weeks should be able to get something out of it, and intermediate learners won't have any issues whatsoever. You can listen to Slow Russian Podcast on iTunes or download all lessons as MP3 files for $20. If you choose the latter option, you'll also get PDF guides with vocabulary, grammar, and more.
What we like the most about it: There's a ton of bonus learning content, including videos and lesson notes.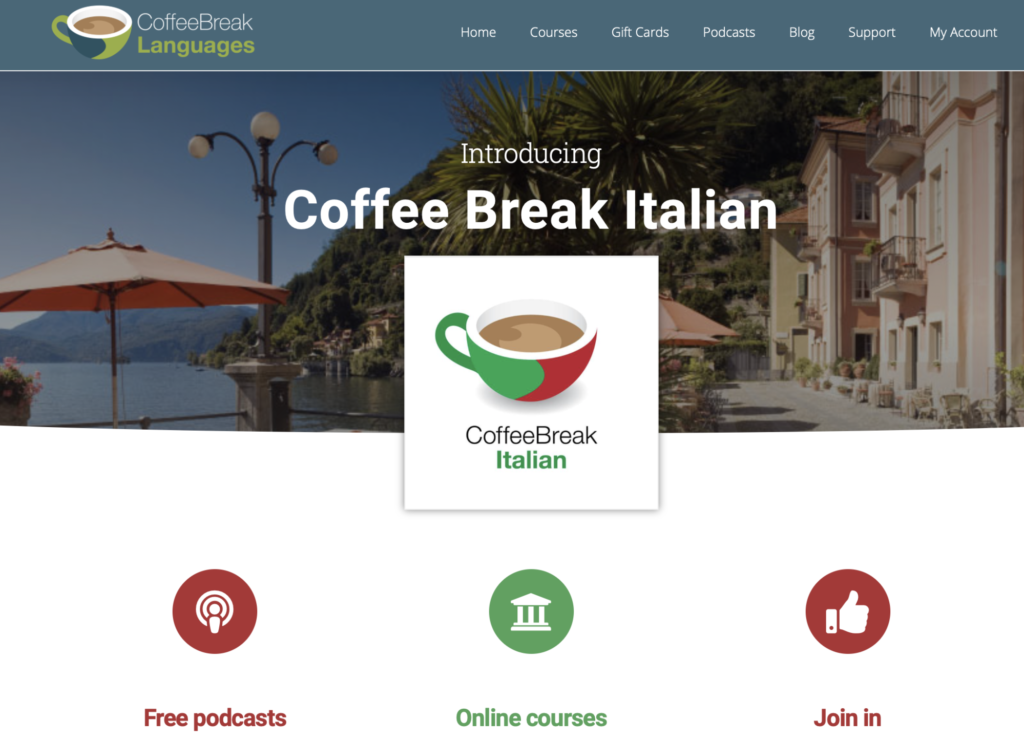 Coffee Break Italian is aimed at beginners and intermediate learners of Italian. The podcast is currently divided into two seasons, and each season features 40 lessons. If you're a complete beginner, you can start with the first lesson and go through the entire podcast lesson-by-lesson. All lessons are available for free, and you can unlock a lot of bonus material by signing up for a course on the Coffee Break Academy. In the future, there will also be lessons for advanced learners.
Best Mandarin Learning Podcast: ChinesePod
What we like the most about it: Likeable presenters who make learning Chinese fun.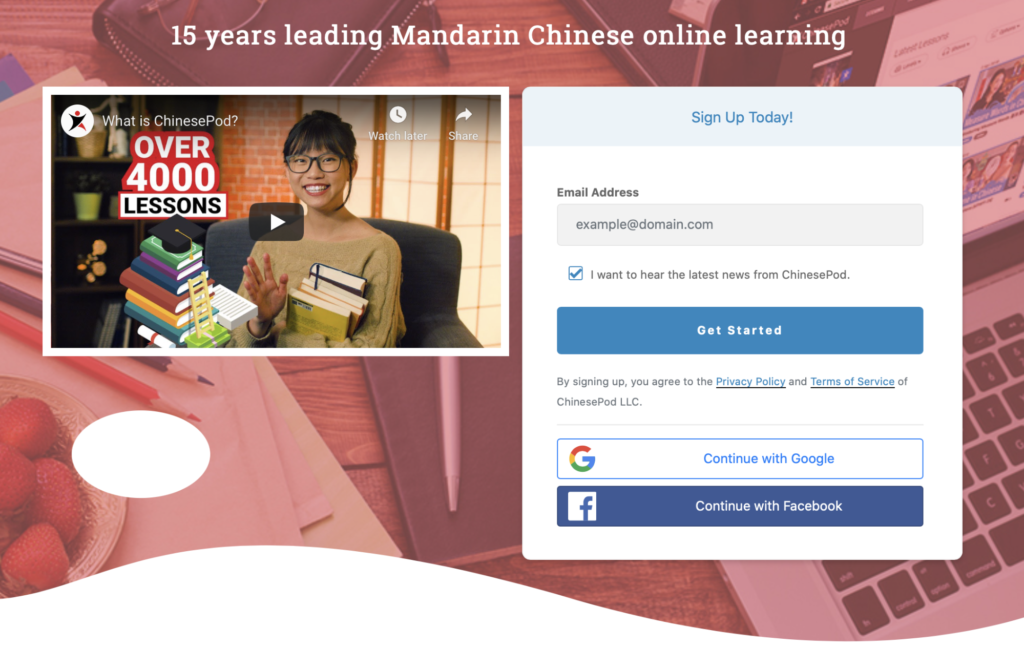 Picking the best Mandarin Chinese podcast is easy because ChinesePod has been providing entertaining content for over 15 years. Whereas many other Mandarin Chinese podcasts offer only a few dozen episodes, which a dedicated learner can go through in a few weeks, ChinesePod has so many lessons that it can keep you busy for months and even years. Best of all, all lessons are created with real language that native speakers use.
Best Arabic Learning Podcast: ArabicPod
What we like the most about it: Hundreds of podcast episodes to choose from.
While not nearly as polished as ChinesePod, ArabicPod offers a similarly impressive amount of content, including hundreds of podcast episodes, thousands of user discussions, video podcasts, audio dictionary, and various apps and games. Free users can listen to all episodes without any limitations, but PDF transcripts and additional exercises are available only to registered users.
Best German Learning Podcast: Slow German
What we like the most about it: Even free users can download all episodes for offline listening.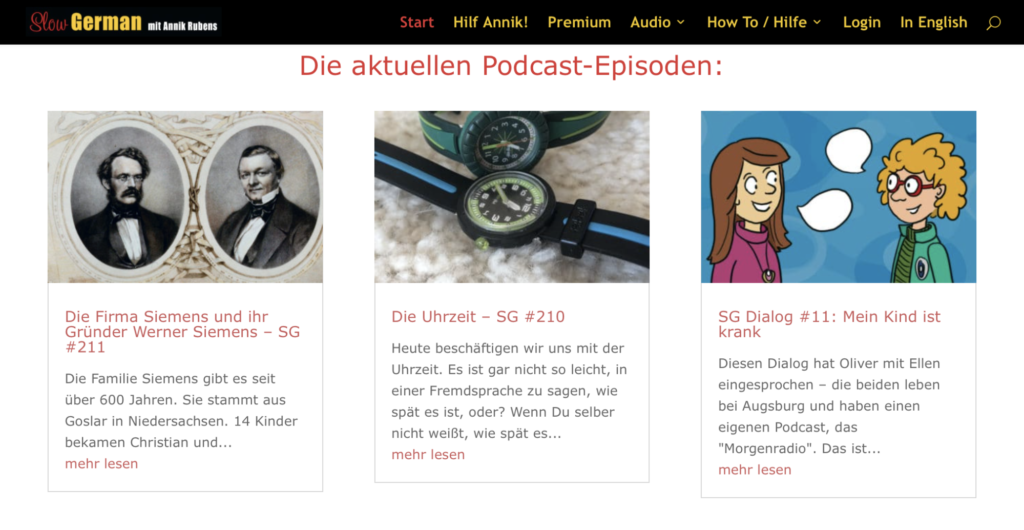 The problem with many German language podcasts is that they are too fast for beginners who are not yet used to fluent German. As its name suggests, Slow German is anything but fast. Created by Annik Rubens aka Larissa Vassilian, this podcast is aimed at learners who already know some German and would like to further improve their listening skills and expand their vocabulary and grammar knowledge.
Best Portuguese Learning Podcast: Escriba Café
What we like the most about it: Tackles very interesting subjects.
If you're learning Portuguese, then you owe it to yourself to check out Escriba Café because you would be hard-pressed to find a podcast that tackles more interesting subjects, especially if you're interested in history as well as the Portuguese language. Just keep in mind that the presenters use Brazilian Portuguese, which is typically considered to be easier to learn than European Portuguese.
Bonus section: How to Get Most Out of Podcasts with Encore!!!
Encore!!! is a language learning app that all avid podcast listeners need to know about. Instead of forcing learners to follow a rigid method that will never work for everyone equally well, it gives them the freedom to choose their own content and their own pace of learning.
Included in Encore!!! is a massive content library available in English, Arabic, French, German, Hindi, Italian, Japanese, Mandarin, Portuguese, Punjabi, Russian, and Spanish. For each language, the team behind Encore!!! carefully selected a collection of words, sentences, greetings and useful phrases, grammar, verb conjugations, casual conversations, and more.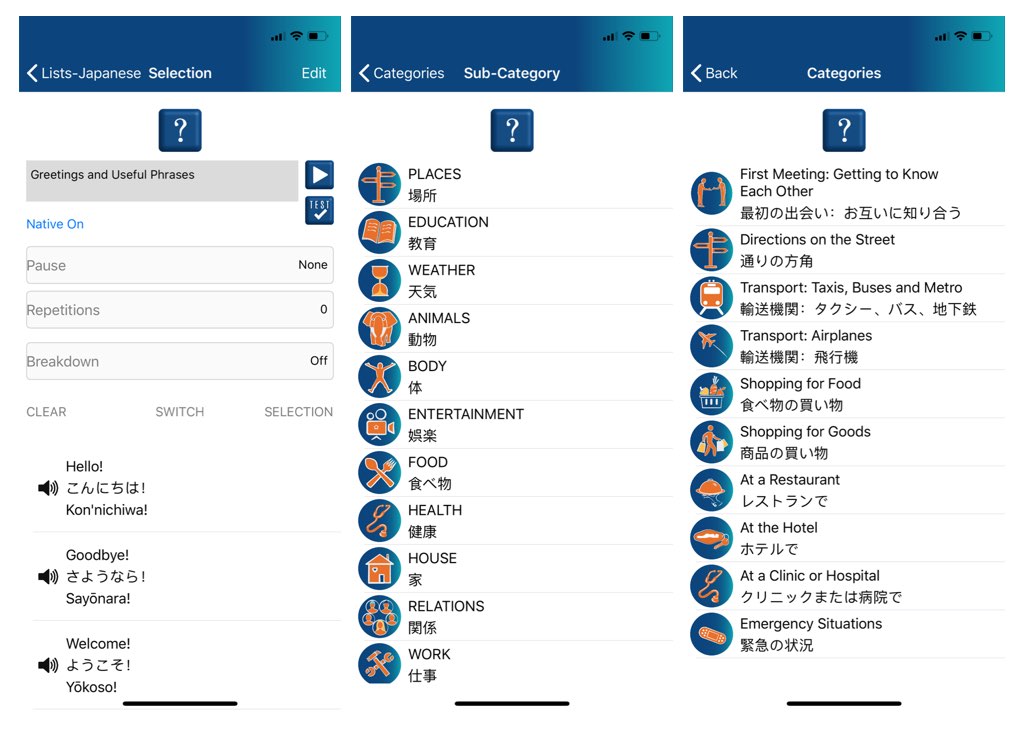 Best of all, learners can import their own content and mix and match it with the app's extensive content library. This makes it easy for podcast listeners to reinforce what they've heard and really commit the information to memory. If that sounds interesting to you, then you need to download Encore!!! today and discover first-hand what makes it the best app for podcast listeners.
Conclusion
Language learning podcasts offer many great benefits to language learners of all levels, especially when paired with a language learning app like Encore!!!, which makes it possible to reinforce freshly learned vocabulary and grammar through custom lessons delivered in bite-sized chunks. In this article, we described the top 10 best language learning podcasts, so all you need to do is install Encore!!! on your smartphone and start listening.