Best Language Learning Websites In 2023
Whoever said learning a new language has to cost a fortune hasn't seen half of these language learning websites. The 21st century has brought more than one way to get things done. Contrary to the traditional ways of studying new languages, today, there are many websites to help you learn the language of your choice. From German, Spanish, Japanese, French, you name it – with the internet, everything regarding studying a new language is at your fingertips.
The best part is, even the best of them do not cost half as much as your traditional language-learning facility. These websites contain paid and free content for all levels of learners. So, if you are wondering about the best language learning websites, here are our top 20 picks. These contain free language learning websites as well as paid.
Best Free Language Learning Websites
Learning a new language doesn't have to cost a fortune or even a single dime. These free language learning websites bridge the gap between traditional language learning and E-learning. They offer some of the best audio, video, and text exercises. While some may have paid versions of their free counterparts, there are pretty much to benefit from their free trials and courses. Strap-in and learn just how much you can achieve as we look at the best websites to learn languages for free.
Encore!!! packs the most value in their free and paid content as far as language learning websites go. The platform offers 15 language pairs, which are English, Arabic, French, German, Hindi, Italian, Japanese, Mandarin, Portuguese, Punjabi, Russian, and Spanish. You get access to all 15 pairs for absolutely no cost whatsoever.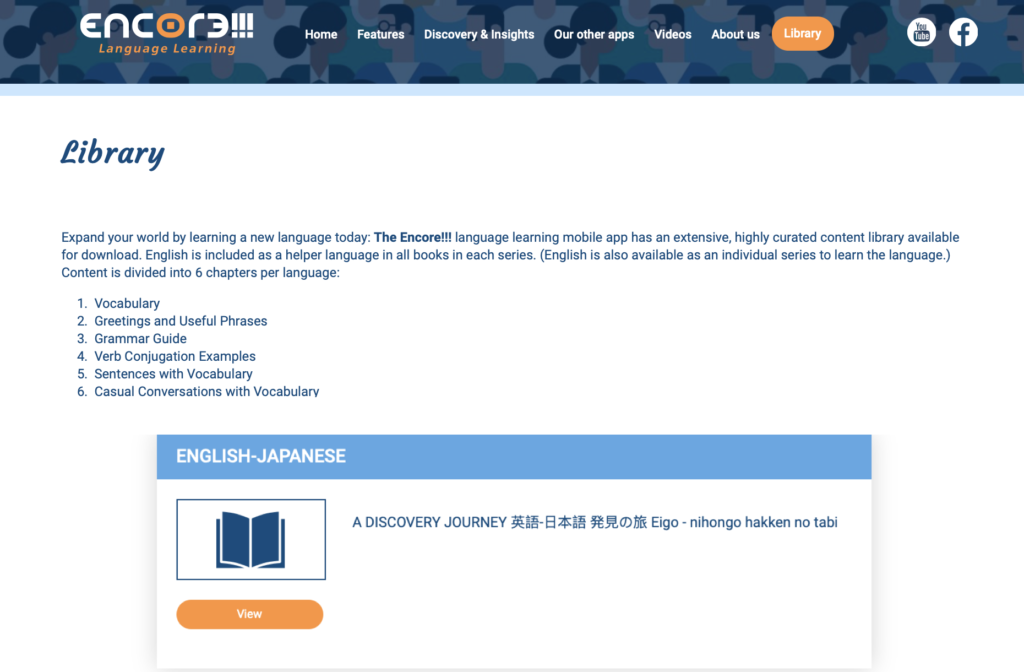 The sheer simplicity of the website and how easy it is to enable you to learn a language fast is why it is the users' favorite language learning website. However, that is not all. Encore!!! also offers a variety of free videos to aid your learning process. While you can access the entirety of Encore's 15 languages for free, there are a few features reserved for paid members. Some of these are full audio content, customized playlist, and "The My Entries" function, which gives you the ability to add your content to the app, be it your voice recording or an online recording.
50LANGUAGES is another great language learning website out there. The best part about it is that it allows you to learn any of its 50LANGUAGES using your mother tongue. It also offers audio content, which is spoken by native speakers and helps users make the most of their learning experience. 50LANGUAGES also offers tests and games to make studying more fun and effective. As far as free language learning websites go, 50LANGUAGES packs a heavyweight.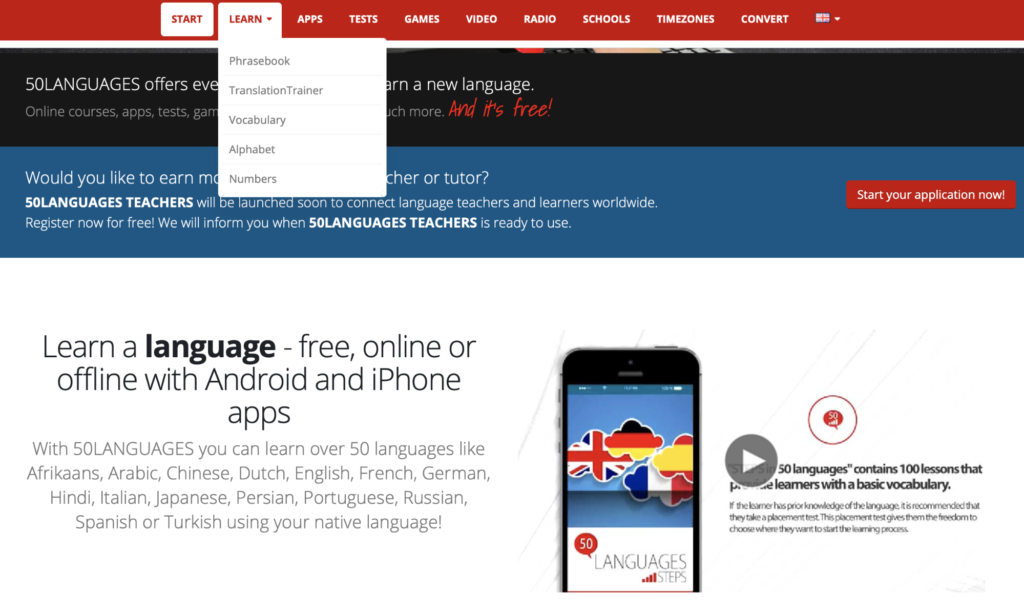 Anki or memorization is an entirely free Japanese learning program. The platform functions as a program that helps users remember things easily. This method of learning is pretty more efficient than the standard study method.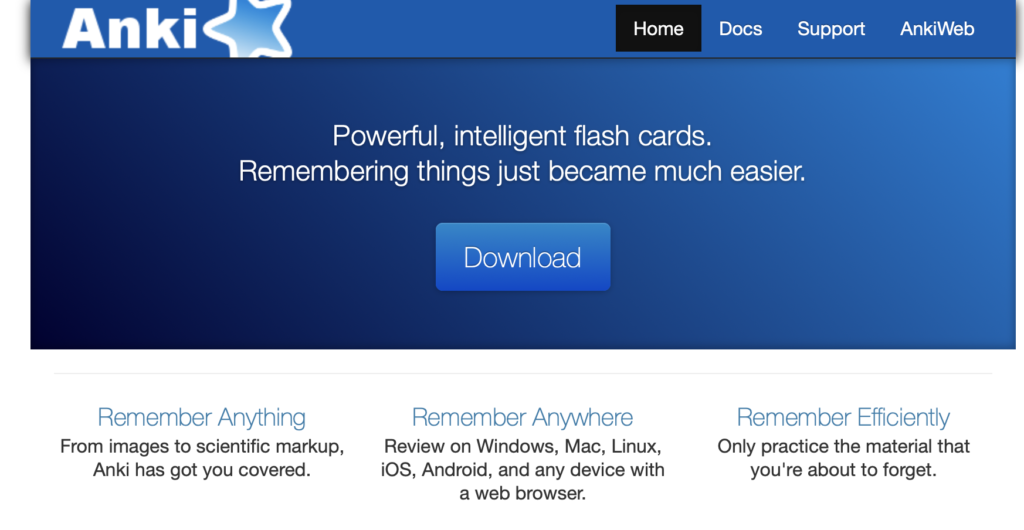 With this website, you can decrease the time spent studying, or significantly increase your learning pace. Anyone who needs to remember things easily will benefit from using Anki, as well as anyone with the desire to learn Japanese with ease. Due to its features, this website can also help users remember phrases and words from other languages they are trying to learn.
Memrise is another one of the few websites to learn languages for free. Memrise uses gamified smart card approach in their learning process. And like every game, users are rewarded with reputation and points as they learn. As far as the number of languages offered by Memrise go, they offer over 200 languages alongside hundreds of courses. While their service isn't totally free, you can achieve a lot from being a free member, making it one of the best websites for language learning.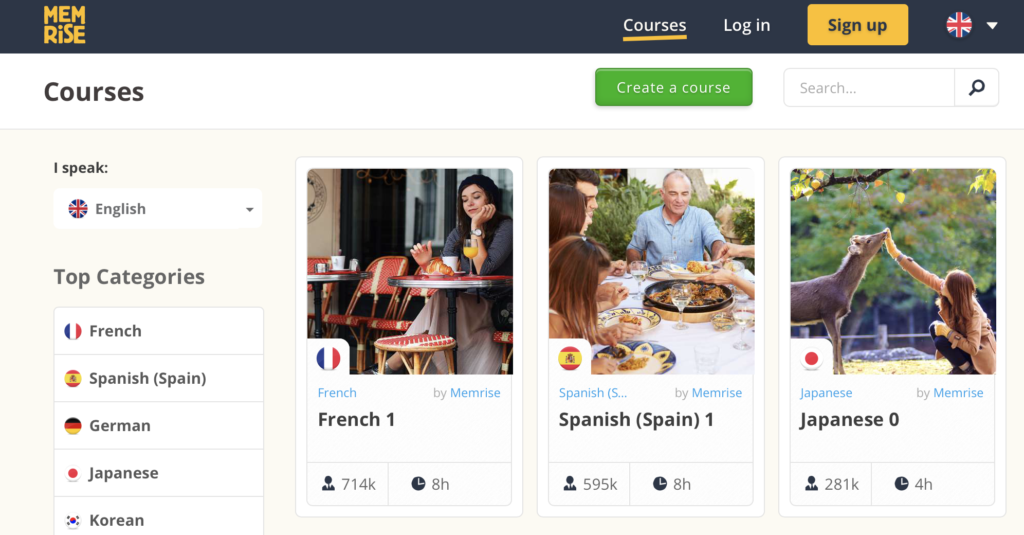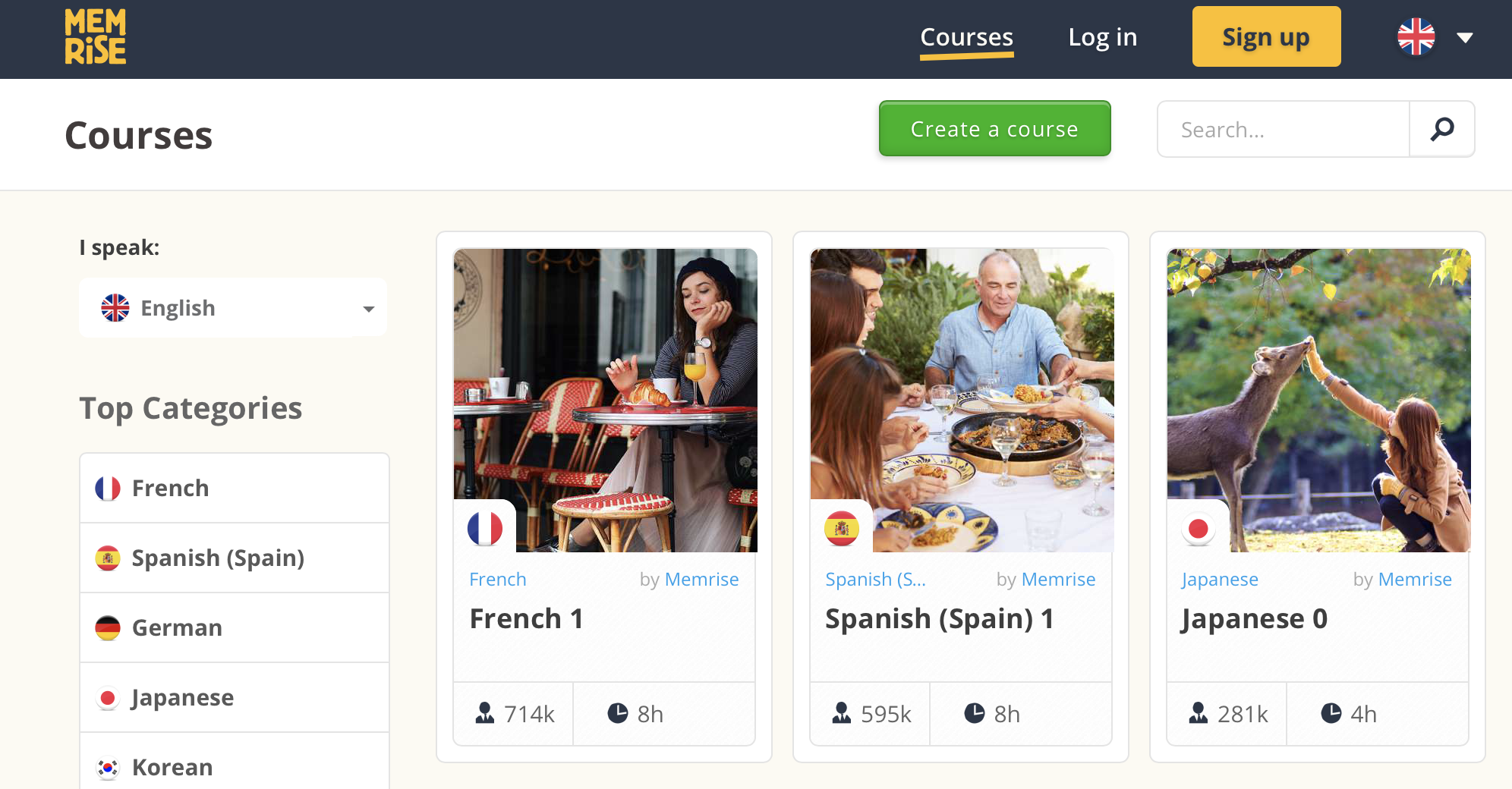 Readlang offers over 46 languages on their web-based app. This website helps you read any foreign language text at an intermediate level. Although shallow for anyone who desires native learning experience, this website offers excellent content for anyone looking to learn a second or third language.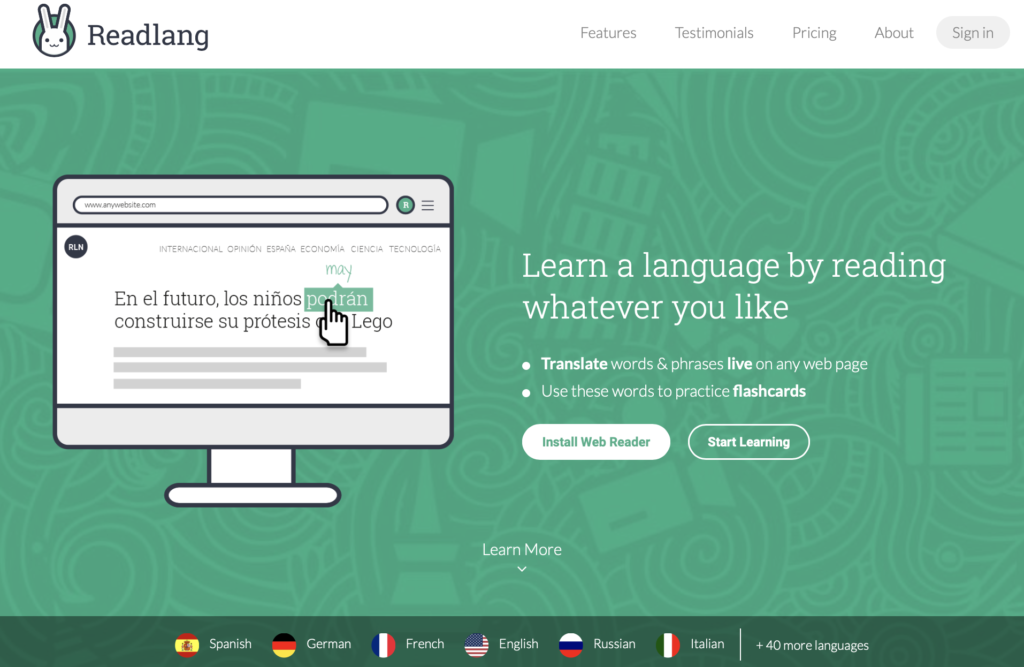 One of its outstanding features is its ability to be used across various websites. This means that Readlang also comes as a browser extension that allows users to read text directly on any website.
MIT is one of the premier educational institutions in the world and they have been making a variety of their courses available for free online. They are offering a full selection of their global language courses that include nine different languages and culture groups, in skill levels ranging from starting undergraduate classes to graduate level. Chinese, Japanese, Spanish, Portugese, German, and French are available as languages, and the lessons on culture groups span the world. Not only do these courses cover the languages, but also the cultures as well.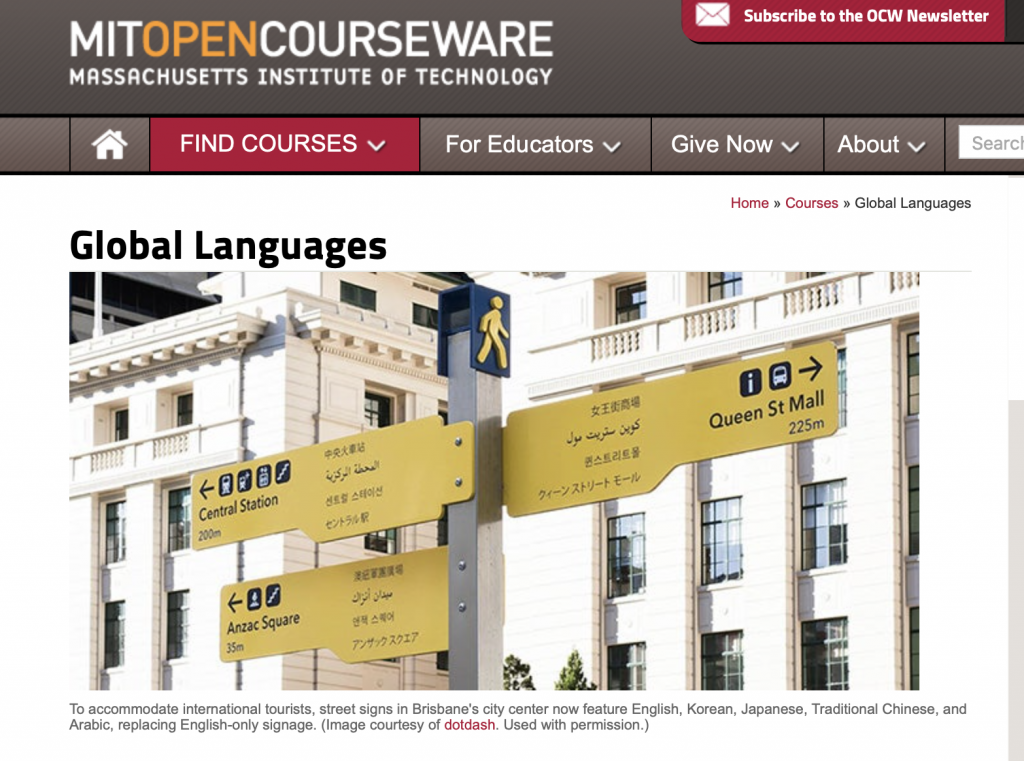 As far as free language learning websites go, this one has one of the most comprehensive levels of language education available. It does require you to do a lot of work, but they provide you with full course materials and syllabi to ensure you can learn at an MIT level if you are willing to put in the effort. These classes can be intense, requiring daily homework with audio programs along with a wide range of study resources. You can even get a look at some of the presentations and projects that students in the physical course created as part of the class. Some of the courses also offer insights from the instructors about why and how they developed these programs.
The ability to learn the cultural context of a language parallel to your languages courses adds a deeper level of education than most language learning sites.This unique entry and its options for educational growth is easily one of the best free language learning websites around. If you are looking for a more in depth and collegiate experience, then MIT Global Languages is a highly recommended site for you.
Open Culture is an incredibly robust educational website that covers a wide range of content from Math and Philosophy to Languages. As a language learning site it certainly shines with over 48 languages represented with courses featuring content from some of the most respected sources in the world. With universities and experts providing content that includes videos, textbooks, downloadable MP3 audio lessons, and more; the lessons make this one of the best online language learning sites available.
Best Paid Language Learning Websites
If you are not big on freebies or like to pay for valuable knowledge, then these websites are for you. It's only natural that you pay for some of the best language learning websites. However, out of the host of paid language learning websites, these few will give you real value for money.
Rosetta Stone is trusted by schools, and enterprises which makes it one of the best paid language learning websites out there. The website has built quite the number of courses around their 28 offered languages. Lessons on Rosetta Stone are short enough to complete in a short time, and long enough so users can make the most out of it. They utilize a dual learning process which is audio and text.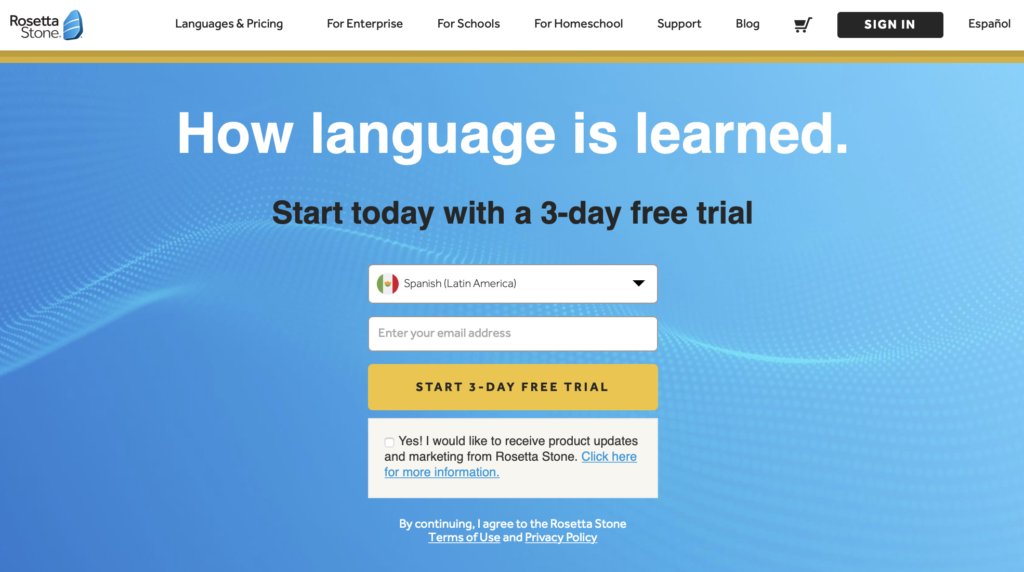 While this website offers some free content, the majority of its features can only be accessed through paid membership. Unlike most language learning websites, Duolingo allows users to purchase entire courses for a one time fee while their monthly membership is capped at $6.99 per month. But that's not all. Duolingo motivates their members to engage and learn more by organizing lessons into games and challenges.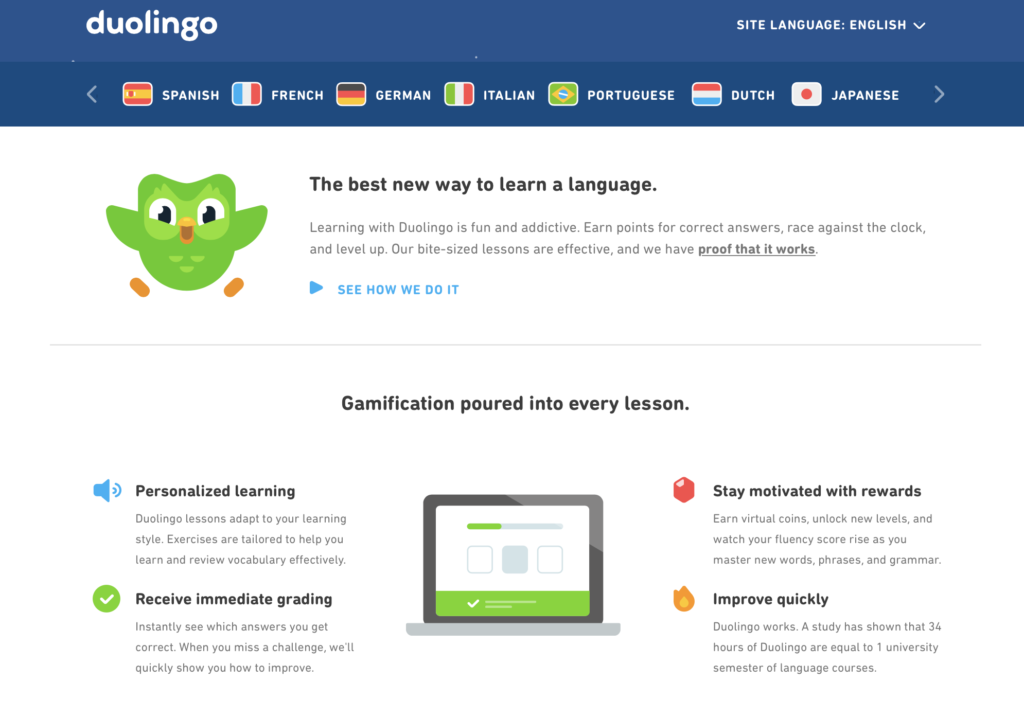 When users progress, they are then rewarded with experience points. They also let you compare your progress with other members of the platform through their friend list. So, if you are the type who needs extra motivation to complete a task, Duolingo offers the best learning opportunity.
LingQ offers a unique way to learn and practice vocabularies in various languages. The platform automatically selects materials for you that suit your selected language level. Studying is done through audio, text/articles, short stories, and video lessons. When reading content in a foreign language, you can easily select a word you don't understand, and the program translates and pronounces it for you. All selected words are noted by the system so you can find and revise them later. Unlike other websites from our list, LingQ has a community where you can ask, answer, and interact with other learners.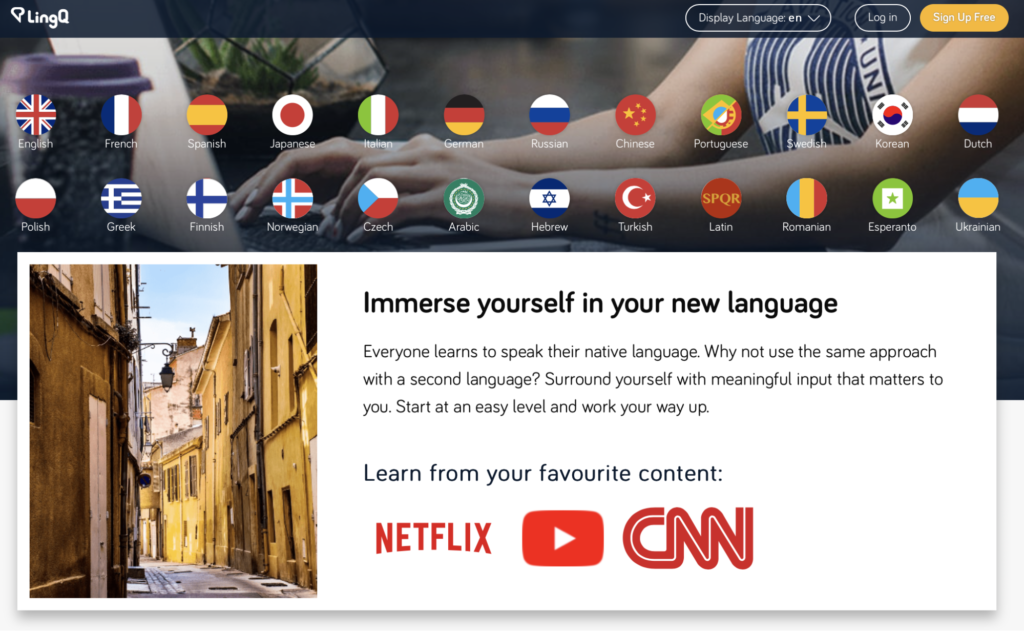 Among the best language learning websites, Busuu holds a special place as it is one of the few sites where you can interact with other people trying to learn a language. The platform has over 60 million active users regardless of the small number of languages they offer. These include English, Spanish, Italian, French, Portuguese, Turkish, Arabic, Polish, German, Russian, Japanese, and Chinese. They stand out because of their learning methods and practice. They also rely heavily on the efforts of users in teaching one another. Learning for beginners can be performed using flashcards while advanced learners utilize writing, and answering questions. Furthermore, users can chat via text, audio, and even webcam.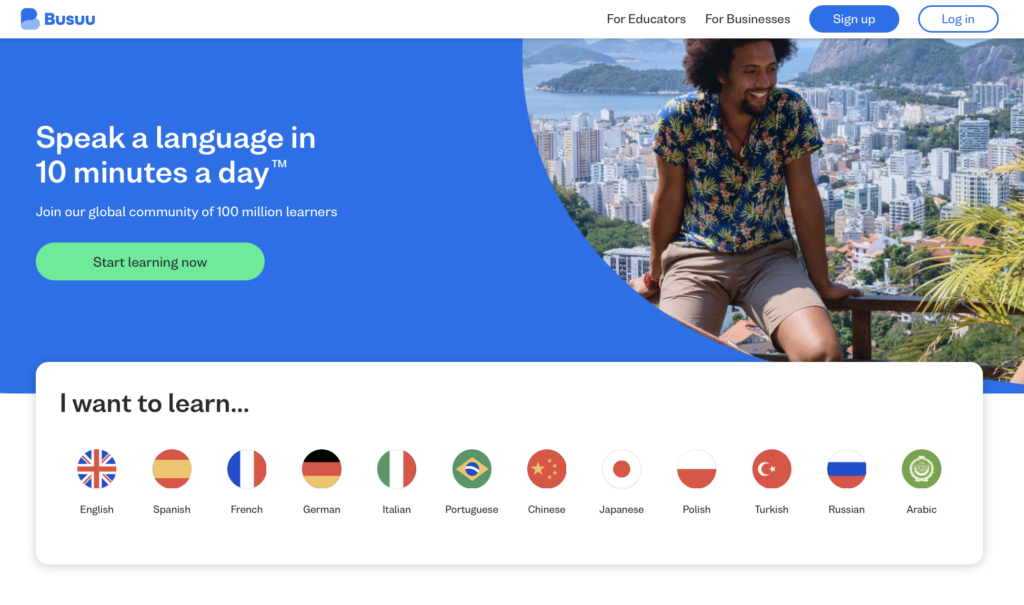 Babbel focuses on building the foundation for actual conversation in all their languages. So, if you are looking to visit a new country that speaks a foreign language, then Babbel offers the best training. The platform also offers a balance between reading, writing, listening, and speaking as they pour the same amount of focus into each. While they cost a few bucks more than the other paid language learning websites, their courses are completely worth every penny.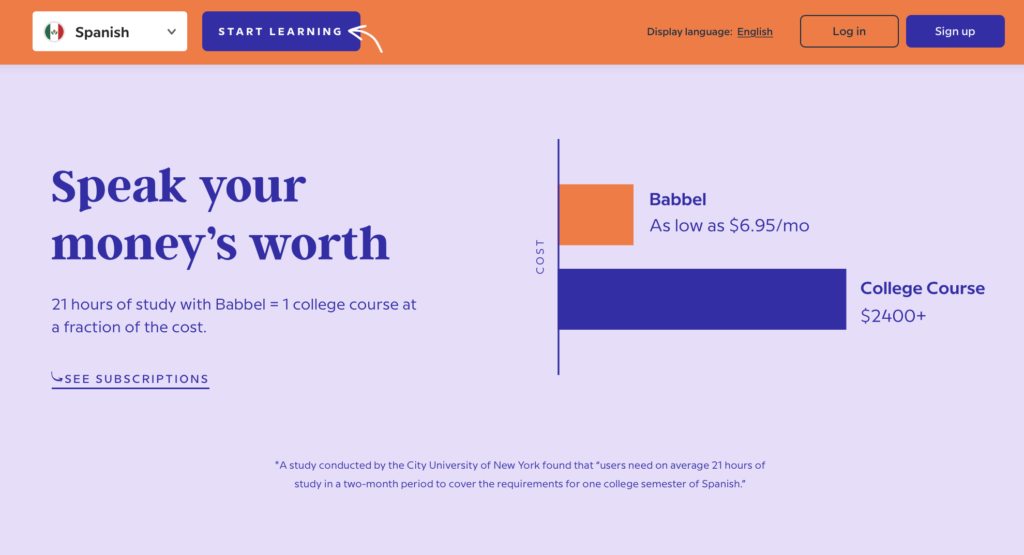 Pimsleur has some of the most impressive credentials, including being the language courses of choice for the FBI and US Military. Pimsleur uses a learning style designed by its founder Dr. Paul Primsleur, derived from a scientifically proven set of learning principles that gets learners speaking and reading a new language quickly. This is one of the best websites to learn languages among the paid sites, and while the price is on the steeper end it is worth the cost.
Websites With Video-Based Learning Content
Video and audio have been practicalized as the most effective means of learning. However, there are still a few who comprehend text and audio better. The fact that people are wired differently is proof of this resolve. These statistics further show the effectiveness of video learning. This means that if you solely understand better with video content, these websites are for you.
Over 300 hours of videos are uploaded to YouTube every minute. This means that there is an unfathomable number of video resources on YouTube to study from. Simply search for your preferable show, movie, or short video with subtitles of your mother tongue and practice while you watch. While some films have to be purchased, there are also tons of free videos to choose from.
Innovative Language provides a horde of free videos and audios for language learners. The platform offers a total of 40 languages, which are taught by real-time native teachers. Since its inception, Innovative Language has strived to become one of the leading language lesson providers. Today, they are one of the fastest-growing and most updated language-learning websites out there as their website is updated with free content weekly. They teach grammar, vocabulary, everyday conversations, real-life situations, and culture. They have lessons covering beginner level learners to advance. While they have a paid version, they offer tons of videos and audios for free.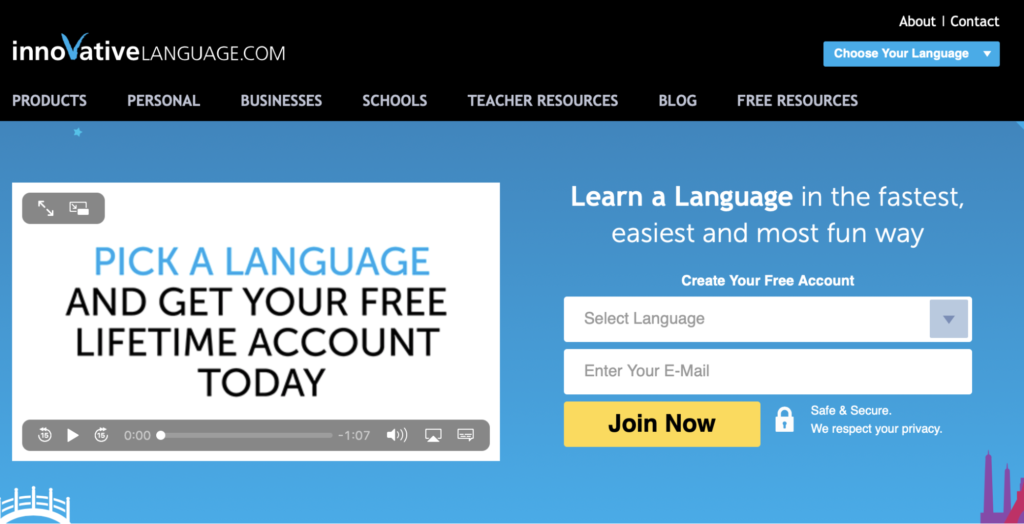 While Streema isn't a language learning website, it can be used for the purpose of studying new languages. Streema is a TV streaming platform covering over 100 countries and just as many languages. This means that if you are studying a less common language, Streema might be a great place to get the resources you need.
FluentU is a paid language learning website that offers only a 14 day trial period for users. The website offers quite the number of video and audio content in a wide variety of options. Here you can learn from cartoons, news, documentaries, music videos, and various other real-world content. This means you can watch the shows you love and learn at the same time.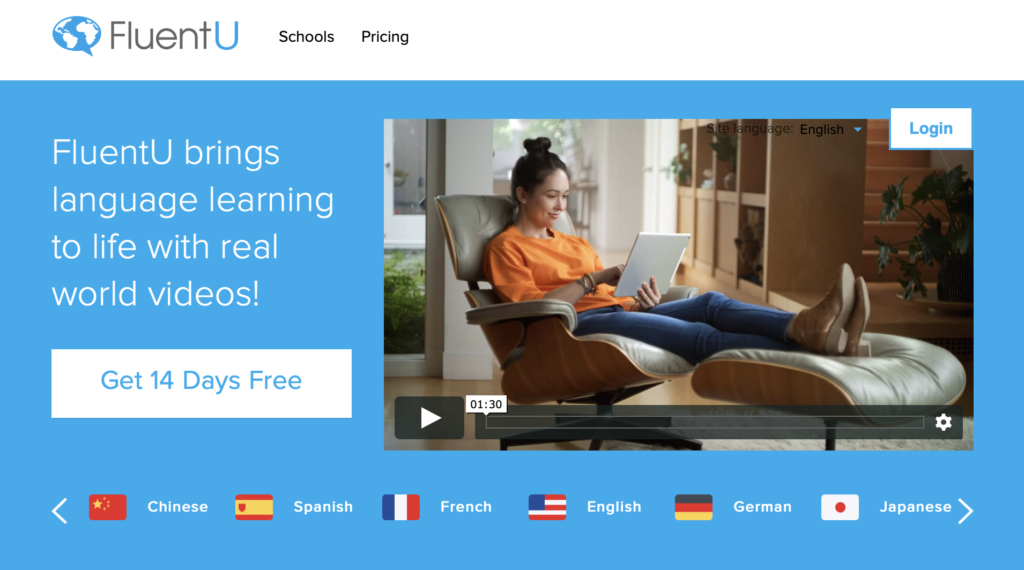 Furthermore, content in FluentU is organized in learning levels to make it easier to understand.
Website For Connecting With Native Speakers
If you are looking for a more fine-tuned learning experience strictly with native speakers, then these are the websites for you.
Looking to learn and interact with native speakers from over 35 languages? Then this website is for you. Livemocha's method of studying includes reading, writing, speaking, and listening. However, each of them is studied separately on the platform. Lessons are structured in a way that first presents new material before asking users to apply what they've learned. While learning isn't free on Livemocha, the platform offers just the solution. Users are allowed to tutor their mother tongue in exchange for lesson credits. These credits can, in turn, can be used to learn other languages.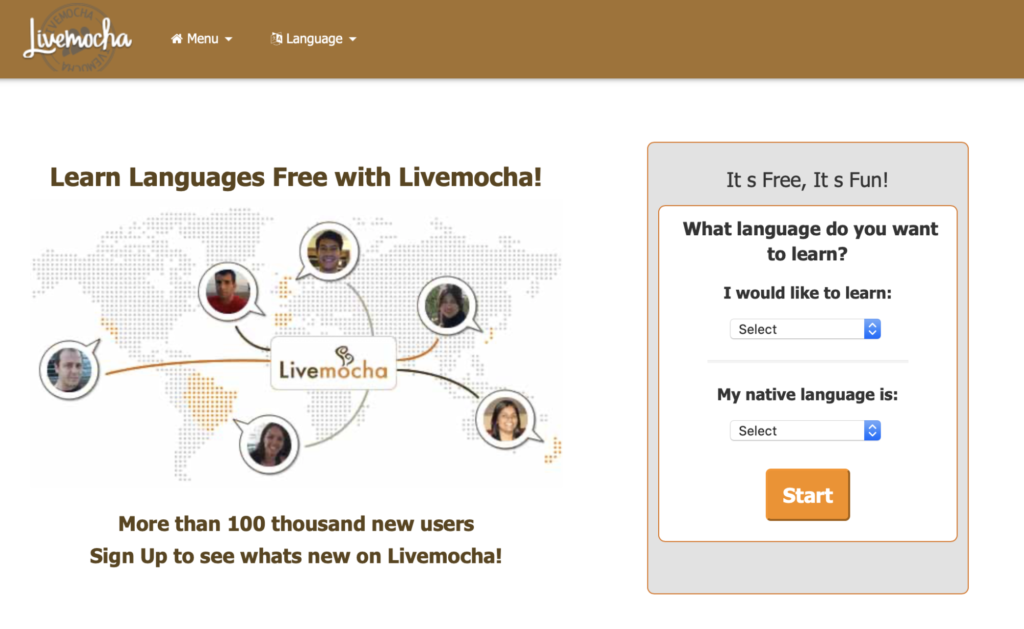 Task users are paid for includes editing something that they've written in their native language or giving feedback on their pronunciation via audio recordings. Livemocha also provides its users access to virtual classes or book tutors for private online sessions.
iTalki promises the ability to connect one on one with native speakers in over 150 languages. iTalki connects people looking to learn a language with those looking to teach. Users will connect with each other over video chat, and classes range in price based on the teacher chosen. Learners can choose to be paired with a professional teacher, a tutor, or someone seeking to engage in mutual language exchange.
Sites to learn languages that provide connections between learners and teachers are becoming increasingly popular, and iTalki is one of the largest of these sites. They offer you a lot of control over how much money and effort you want to devote to your learning. Because of how robust and flexible the offerings are, iTalki is one of the best language learning sites for connecting with native speakers.
In the BBC's quick fix section, the website showcases over 40 phrases in 40 different languages. However, the website majorly deals with only 7 different languages which are French, German, Spanish, Italian, Greek, Portuguese, and Chinese. For these foreign languages, BBC conducts assessment tests to identify user learning levels i.e, beginner, intermediate, or advanced, and accordingly provides resources such as PDF vocabulary lists and crossword puzzles to aid learning.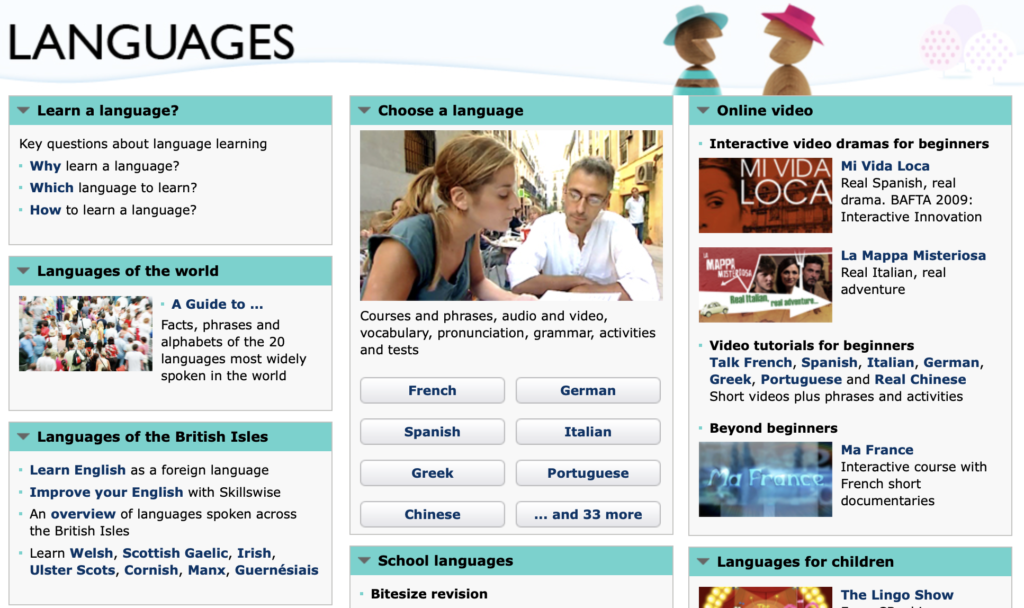 However, the website's video lessons offer the most value. Considering the BBC Languages is totally free, its contents rival some of the best language learning websites out there.
Conclusion
The web is a big directory of information. This means it can be difficult or even impossible to sort out for the websites that best suit your learning needs. This is why we have created the best language learning websites for 2023. Regardless of your learning needs, we have made sure there are a few websites that will satisfy everyone. You could be looking out for paid, free, video,  audio, and native interactive sessions. This list contains all you need in your quest to learn a new language. We recommend Encore!!! as our top free language learning website, as it offers the best features, and best prices, and above all else offers true learning value.
FAQ about Language Learning Websites
What is the best free language learning site?
The best free websites for learning a new language will be the ones that work best for you and your learning style. However, we do recommend Encore!! because it gives you a wide range of languages to learn in a proven educational format, all in one simple and easy to use application.
Is Babbel better than Rosetta Stone?
The answer to this question is going to be different for everyone, as some will prefer one to the other, or one may fit their goals better. Rosetta Stone is seen as good for establishing a more tourist-like understanding of a language, while Babbel is more intensive and dialogue focused. See which one fits your goals best and give it a try, and at the same time try out Encore!! too.
What is the best free website to learn Spanish?
The best free website to learn Spanish is Encore!! Our app is a fast and proven effective method for learning languages, and our Spanish course is included in the free version.
Do online language courses work?Do online language courses work?
There are many language learning sites on the internet and more people than ever are learning from them. These courses all have their own pros and cons, but it is hard to argue with their effectiveness. The best websites to learn languages will vary based on your goals and learning style, but with time and dedication they will almost all certainly work.