Simple Language Learning Resources For Tourists
If you are traveling to a foreign country and are wanting to learn to speak the language, finding the most convenient ways to educate yourself is likely very important to you. There are many language learning resources you can tap into that will help you meet your individual goals. From lessons that you can take before you leave home, to ways to learn while experiencing your destination, there is something (or a combination) to meet your educational needs. In this article we are going to take a look at a few of these options to give you information that can inform your decision-making process.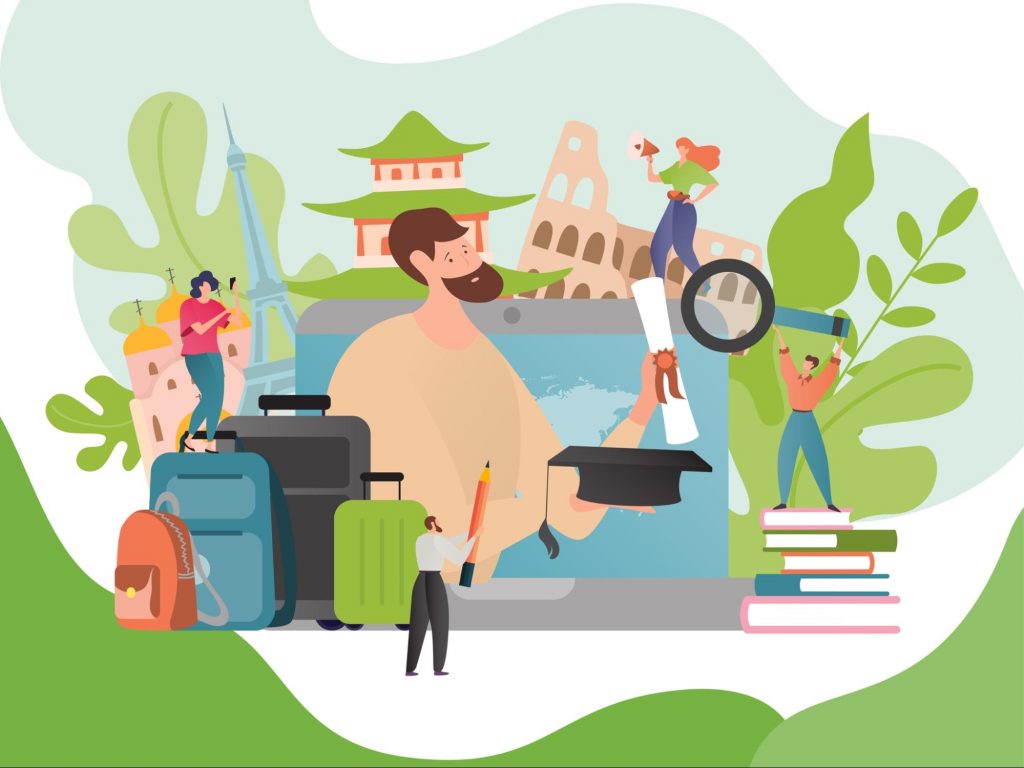 Best Language Learning Resources At Home
For many people, learning from home before they leave for their destination is where their journey begins. There are advantages to using these options to start your education, as they will lay a foundation for your further growth towards fluency.

Short-term Immersive Schools
These schools offer you a quick way to learn at a conversational level. They are often customizable, fast, and get you prepared to have the conversations you will need during your travel. We have a more in depth article on these schools to help you decide if they are right for you!
Apps
One of the most convenient forms of education in our modern world is by using one of the many apps available to you. These portable language learning resources are fantastic for teaching you, and doing so on your schedule. You can use these apps anywhere and many of them offer various depths of education so you can focus on what you will need for your trip.
When it comes to these apps, we will recommend Encore!!! for the most flexible and immersive experience. Encore!!! uses the tried and true L1 – L2 style of learning, and even lets you zero in on the exact phrases and words you want to refine.
Books
Some people find that the old ways are still the best ways, or they use them to supplement another language learning resource such as a school or app. You can take these books everywhere and use them in your free time. They have lessons as well as often having workbook sections for you to test out your skills.
For travelers looking to learn before a trip, there are books that are focused on conversational and tourist lessons. These books also usually have lessons in cultural traditions to teach you to converse while also discovering how to avoid possible social "faux pas".
Best Language Learning Resources As A Tourist
Learning doesn't just stop when you leave on your journey. When you reach your destination you have many language learning resources available to you and opportunities to gain confidence in your learned skills. Let's take a look at a few of the options available at your destination.
Take A Tour Of The City
The best resource for learning a foreign language overall is immersion, and going out on a guided tour of the city will let you immerse yourself and give you opportunities for conversation. It is possible to find tours with bilingual guides who can help you by giving you explanations in your language as well as helping you learn the local tongue and translating for you.
These tours offer you a great tourist experience, lets you see the sights, and gives you the chance to gain knowledge about the city while learning to converse too. Taking advantage of these opportunities for experiential and immersive education allows you to make the most of your trip while also getting some local knowledge.
Talk To The Locals!
Every moment you have while immersed in another culture is a chance to learn and improve. One of the most widely available free language learning resources during your trip is the locals themselves. When you go to a store or restaurant you have the chance to communicate with the staff and practice all of the skills you have learned from other resources.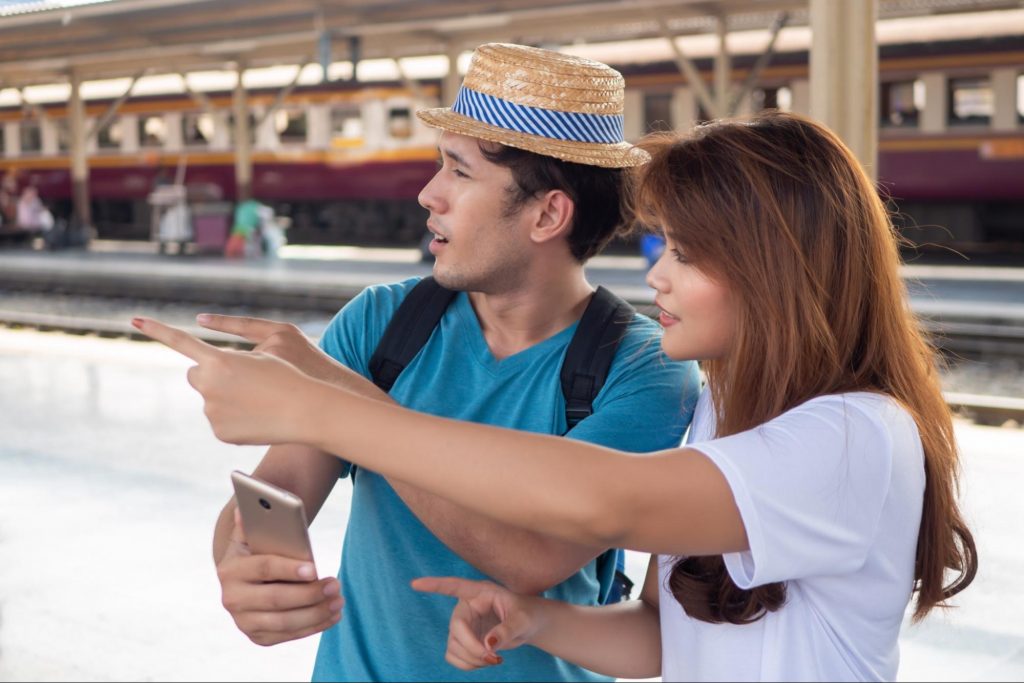 If you find yourself having trouble, body language and gestures can help you communicate your meaning to the local you are talking to and vice versa. Using your well practiced phrases can help you build your confidence and many times the locals will correct you on your words and grammar, and they usually appreciate the effort you are taking to learn to communicate to them in their own tongue.
Entertainment As Education
One of the great and often free language learning resources is all around you, in your hotel room, in movie theaters, and many other places you may look. Entertainment such as TV and movies give fantastic educational opportunities. For instance, you can watch television shows that are presented in the local dialect and try to use your knowledge and the context of the program to teach yourself.
Movies that are imported into the country can also educate you by letting you hear lines that you might be familiar with in a new way. This lets you use what you already know to figure out the new words and grammar. Shows in either language that feature subtitles can also help to serve this purpose.
This is an educational resource that you can use both when on your trip or when at home beforehand. There is a lot of foreign programming available on the various streaming services that you can tap into for some educational opportunities while also being entertained. You could also choose to watch shows you know with localized audio dubs or subtitles.
Encore!!!
With all of these educational opportunities, a great app can help you to put everything you have learned together and refine your skills. Encore!!! has tools that let you record phrases that you want to know or refine, and add them to your practice. You can add the words and phrases you learned from tour guides, locals, or entertainment sources to your lesson plan. This lets you target and focus on exactly the things that you want to know.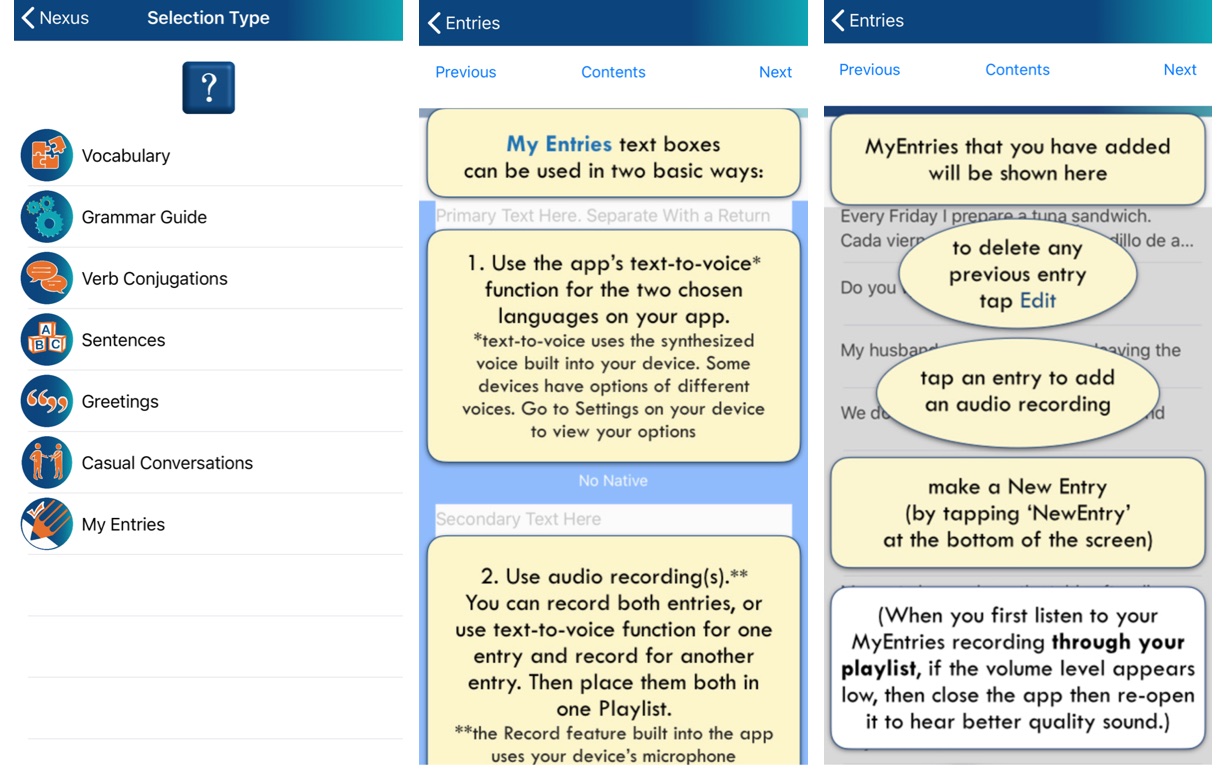 Conclusion
When going to visit a foreign country your experience can be vastly improved by learning to speak the local vocabulary of your destination. There are many language resources you can use at home and abroad to help you to communicate during your travels. At home you can use short term schools that you can customize to your needs, apps, and entertainment. Once you are at your destination, your education does not need to stop, as you can be taught by the locals, tours, as well as the great and easy to access resource of entertainment.
When looking for an app that can educate you both home and abroad, we recommend Encore!!! It offers a variety of tools that can educate you at your convenience and let you focus towards your specific goals.
We think all of these methods are fantastic ways to learn, and will all combine to enhance your travels. If you want the best experience possible, take advantage of every opportunity to learn that is available to you. Every moment offers a possibility to learn and improve, and we hope this guide has inspired you on your journey and help you find the best resource for learning a foreign language to fit you.