5 Best Apps To Learn Spanish In 2023
In 2023, learning to speak the Spanish language has never been easier! Modern technology has made it so that all the language education that used to require stacks of books and tapes, or hours of class time, now can fit into your pocket and be accessed at any time or place. Let's take a look at five of the best apps for learning Spanish, and a few that can be used in the classroom too.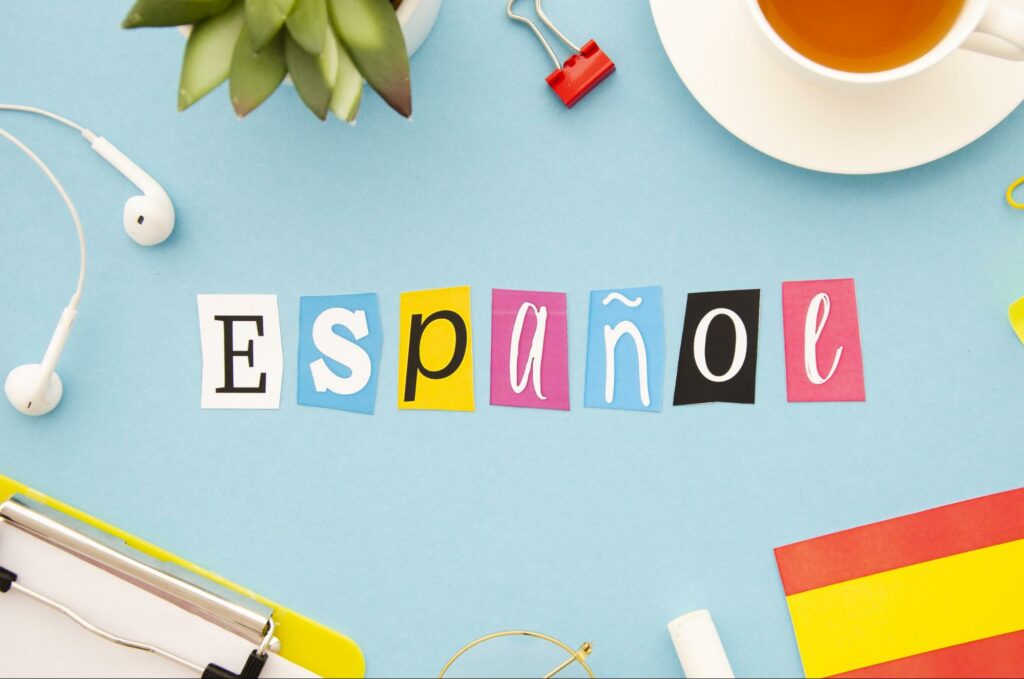 Why Use An App To Learn Spanish?
Before we look at the apps, let's first look at why you would want to use a language learning app to learn Spanish in the first place. While traditional language schools and classes are still a great way to learn a language, for many people it is hard to find the time to go to those classes. Apps give flexibility to your learning, letting you choose the style of learning that suits you best, and the ability to learn when and where you have time to do so.
Apps also improve on the methods of learning at home that were used in the past by introducing opportunities for interactivity with others. Some apps let you communicate with other students, teachers, or native language speakers. Others are designed to work as both self-study or as a compliment to a language class, with teachers building their own lessons in the app for their students to study.
The Best Apps For Learning Spanish
The best way to learn Spanish with an app is different for each person. In this list we are going to rank the top 5 best apps to learn Spanish overall, and also let you know what each app's biggest strength is to help you find what is best for your style of learning.
App
Best For
Main features
Offline learning mode
Price
Free Trial
Link
Encore!!!
Customizable
Customizable, Ability to add your own text and audio, Make custom playlists of lessons, large content library.
Yes
$2.99 a month per language
yes
https://gurmentor.com/encore-language-learning-app/
Memrise
Crowdsourced lessons
User created content, large variety of lesson types
No
$8.99 a month
yes
https://www.memrise.com/
Lirica
Musical Lessons
Learning culture and language together in a fun way
No
$4 – $8 a month
yes
https://www.lirica.io/
Babbel
Short Lessons
Colloquial language first, short lessons, large vocabulary
No
$13.95 a month
yes
https://www.babbel.com/
Duolingo
Free Short lessons
Gamified learning. Set and achieve goals.
Paid only
Free
$6.99 for ad free and offline
Free
https://www.duolingo.com/
1. Encore!!! (iOS, Android)
The Best Spanish Learning App For Customization
The Encore!!! language learning app is our number one pick for learning Spanish. One of the main reasons it ranks so high on our list is due to its customizability. Encore!!! uses the L1-L2 learning method used in the top language learning courses worldwide. This means that it emphasizes hearing and repeating a word in your native language and then the language you are trying to learn. Encore!!! is flexible and customizable, allowing you to choose the words and phrases you want to learn, as well as creating lessons of your own that will let you record your own lessons and add them to your lessons using the My Entries feature.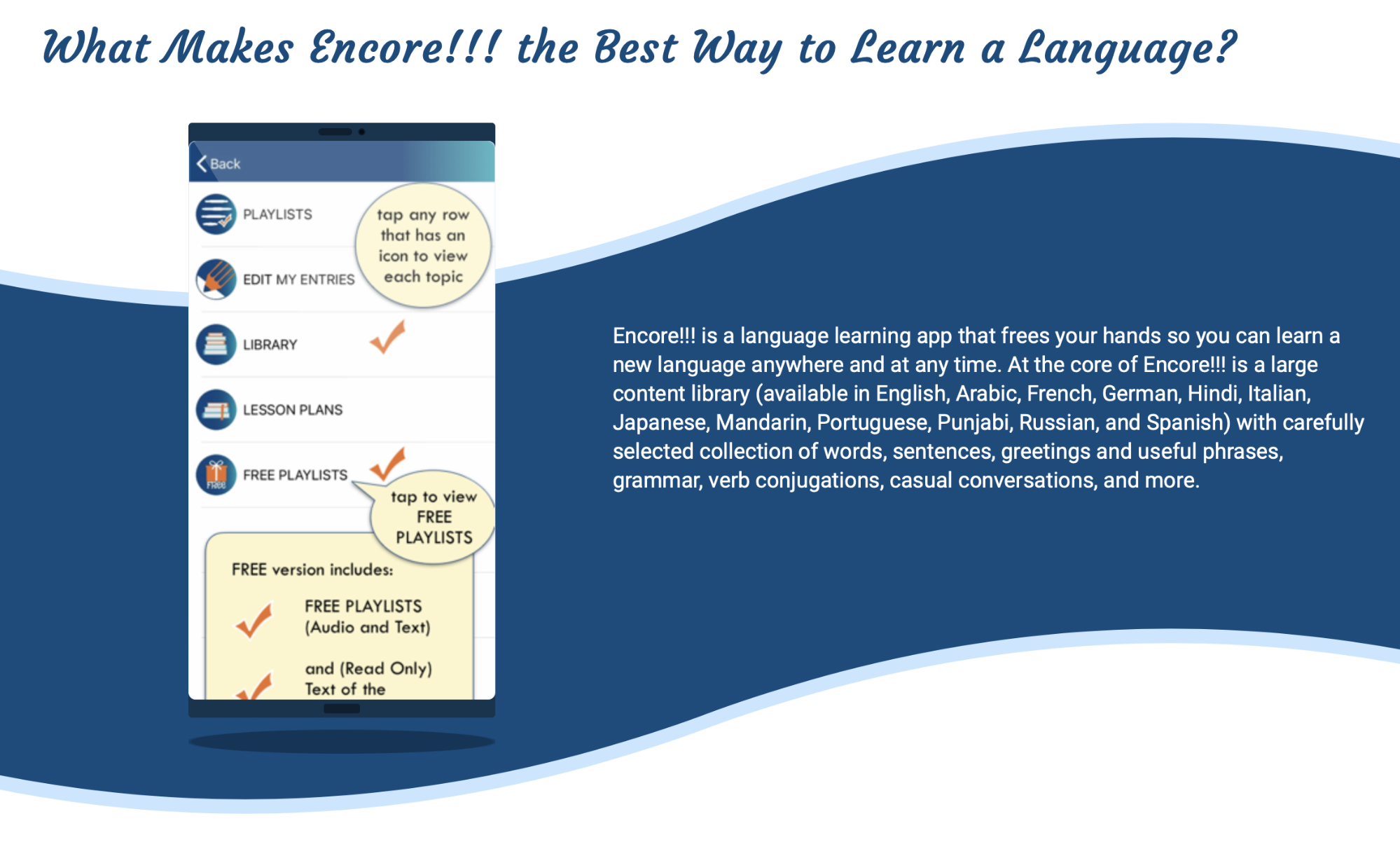 Encore!!! also requires minimal interaction and has no requirement to be connected to the internet, meaning that unlike many of the apps out there, you can use the app to learn Spanish and immerse yourself in the language while doing chores, driving, working out, etc. You can devote the needed hours a day or week to learning by making it a part of your daily routine, as opposed to apps that make promises of fluency in 15 minutes a day that they cannot deliver on.
Price: Freemium (2.99 a month per language)
Pros:
Customizable
Ability to add your own text and audio
Make custom playlists of lessons
Large content library
Cons:
Requires a separate purchase for each language
2. Memrise (Android, iOS, Web)
Best Spanish App For Crowdsourced Lessons
Memrise is another unique Spanish learning app. Memrise features content created by native speakers along with the content provided by the app itself. This means that you can get a wide variety of lessons in languages and dialects, all provided in short and easy to digest lessons. Memrise lessons have both audio and video content, as well as lessons such as flashcards or translations.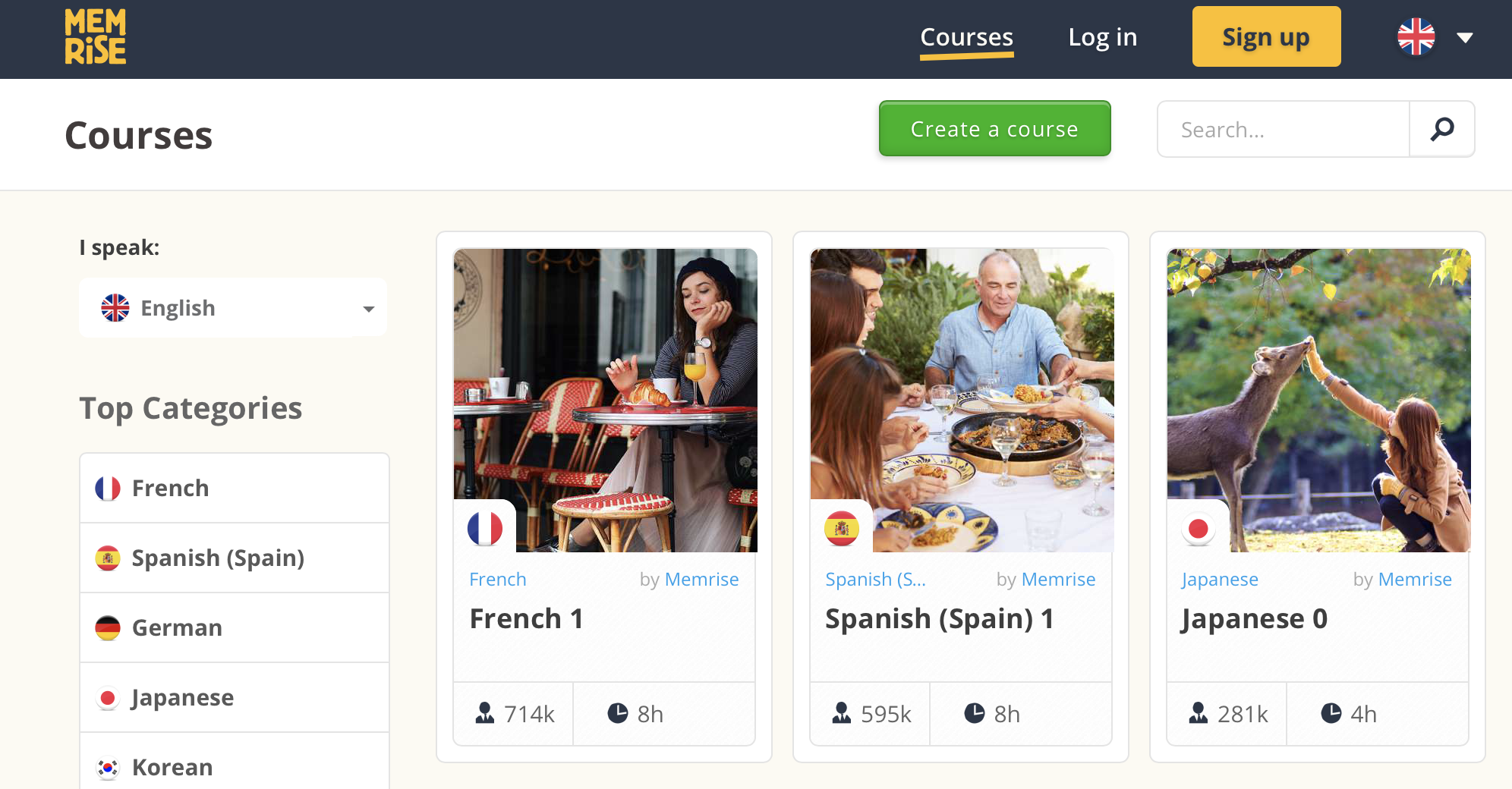 While the user provided lessons can be a great feature, unfortunately some of the lessons are lacking in oversight. It is best to see user responses to courses to ensure they are accurate. It can also be difficult to tell the difference between the Memrise provided content and user content as they are listed together.
Price: Freemium (Premium costs $8.99/month or $119 lifetime)
Pros:
User created content
Large variety of lesson types
Cons:
Low quality controls in user created courses
Hard to navigate
3. Lirica (Android, iOS)
Best App For Using Music To Learn Spanish
There are many ways to learn a language, and one of the more entertaining is to learn language through song. Lirica is an app that facilitates learning Spanish through music (along with English, and German), while also getting to experience the culture of the language at the same time. We use songs to teach language to children, and it is just as effective for adults. Songs have a way of burrowing into our subconscious, and that means the lessons you are learning will do the same as well.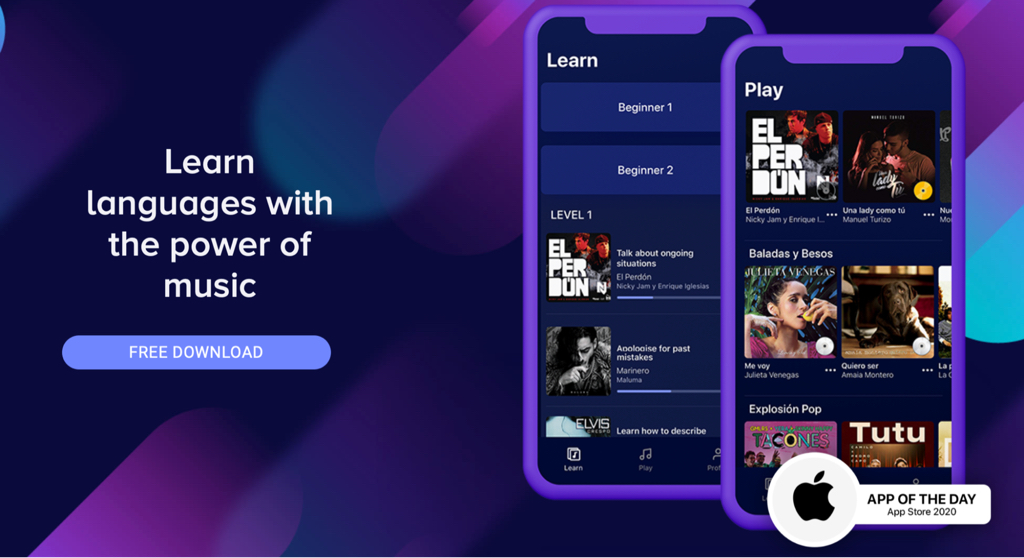 Lirica uses popular music to teach you Spanish, having you learn a song in verse long chunks. It has you try to translate the song and the meaning of the lyrics in its lessons, and as you progress the internal gamification has you build fans on your way to becoming a Spanish language superstar.
Lirica also works well with an app like Encore!!! as you can add the lyrics to your Encore!!! lessons.

Price: 1 week free trial, then $4 – $8 Monthly
Pros:
Learn in a fun way
Music gets stuck in your head along with lessons
Learning culture along with language
Cons:
Monthly fee
Limited language options
4. Babbel (Android, iOS, Web)
Best Spanish Learning App For Short Lessons
Babbel is a very popular app to learn Spanish in short 10-15 minute lessons. Babbel has some great lessons, with some advantages including it teaching you how to speak using colloquial language so you sound like a local. It is considered to be a great program for beginners and those looking to improve vocabulary in a foreign language. However, Babbel ranks as the number 4 best app for learning Spanish on our list due to what it is lacking.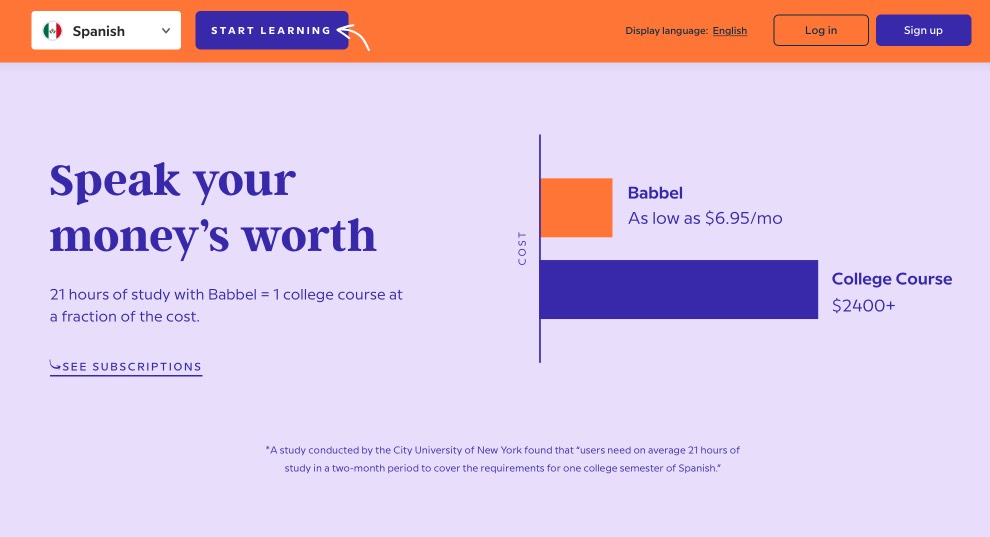 Babbel really doesn't have anything that helps it stand out over other Spanish learning apps, and especially none that justify its price. Babbel also lacks in grammar lessons beyond some very basic concepts, and doesn't really encourage any out loud practice. The short lessons also limit your ability to really achieve fluency in the ways the app promises.

Price: 1 week free trial, then $13.95/mo
Pros:
Well designed app
Great content available including audio
Colloquial language first
Excellent vocabulary lessons
Cons:
Price
Limited grammar lessons
Lessons too short for fluency

5. Duolingo (Android, iOS, Web)
Best Free Spanish Learning App For Short Lessons
Duolingo is one of the most popular language apps on the market for learning Spanish along with many other languages. Duolingo offers language courses as a series of short lessons that are very game-like and tracks goals you meet along the way. The app also integrates a competitive aspect to its goals as well, ranking your accomplishments among other users.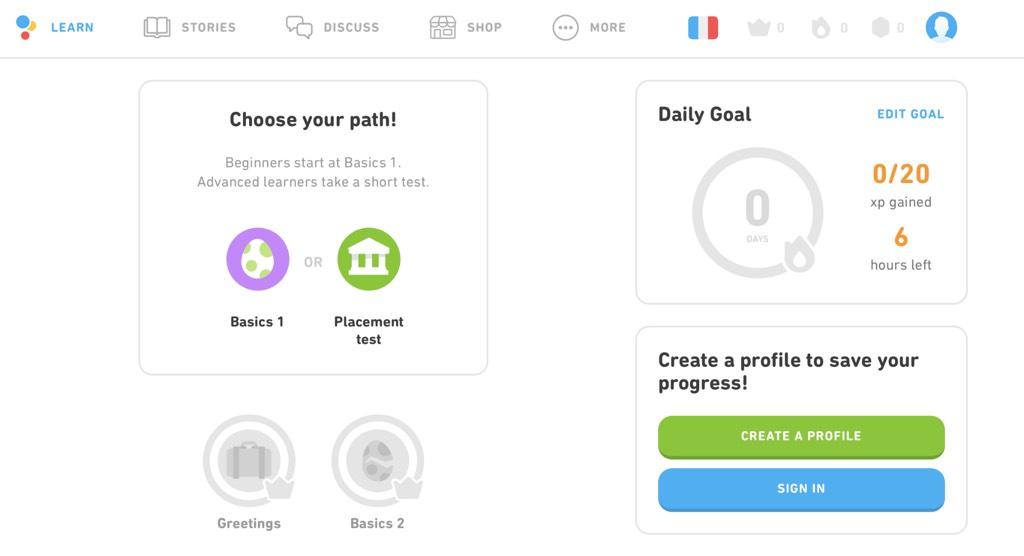 It is a very easy to use app, but Duolingo does not rank as our best app for learning Spanish and instead lands in the number 5 spot due to its limitations. Duolingo does not teach you very much at all in the way of grammar, which is a very important part of a language. While it can be a great supplement to a classroom education, a more comprehensive app, or serving as a refresher. Its lessons are also too short and compact to truly achieve any sense of fluency. It is one of the best free apps to learn Spanish, but loses out compared to apps with more robust paid options.
Price: Free with a paid option with no ads and offline learning (Duolingo Plus at $6.99/month)
Pros:
All content available for free
Fun to use
Great when time is limited
Good for vocabulary learning
Cons:
Ad supported free version
Offline is paid only
Limited grammar lessons
Too short for fluency
Bonus: Best App For Spanish Teachers
Encore!!!
Encore!!! stands alone among Spanish teaching apps due to its ability to be customized. Teachers can design programs for their classes with the My Entries feature. The My Entries feature lets them design lessons where students learn to make polite requests, use lines from books or movies, or adapt to students who may need more repetition or focus on particular subjects.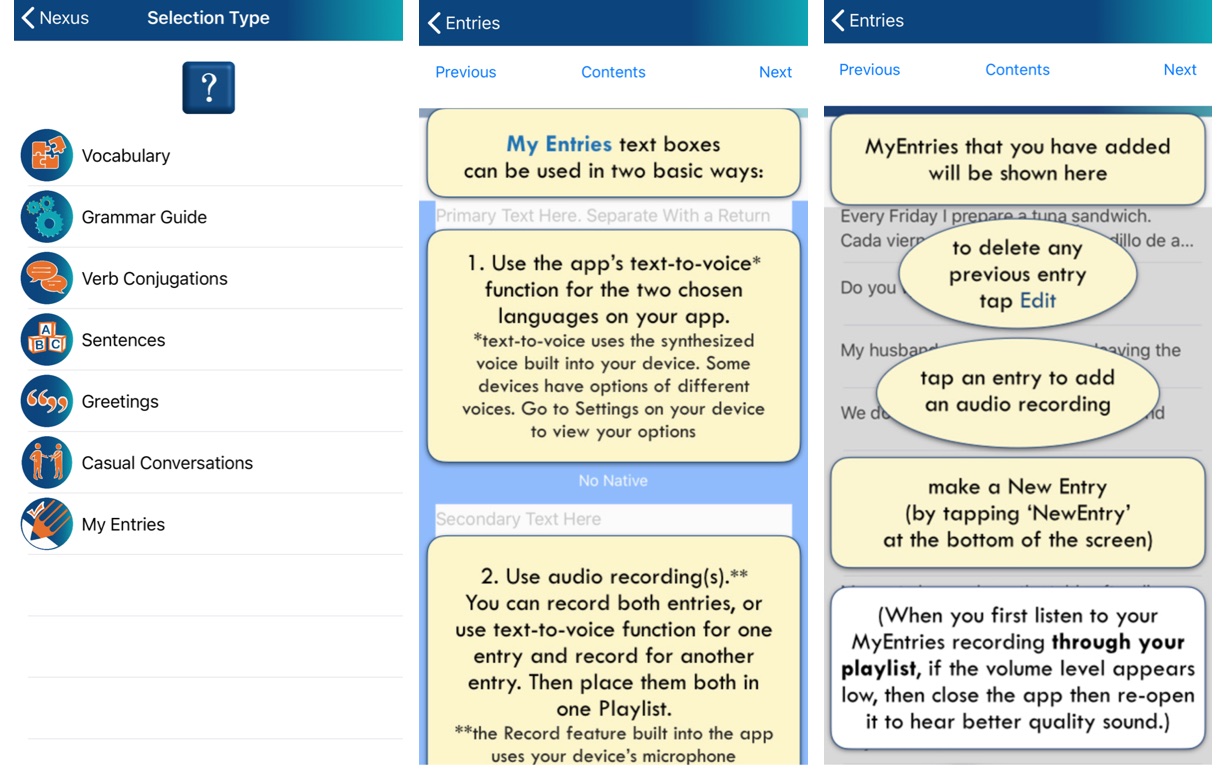 Teachers can also design examinations to go along with the lessons too, making Encore!!! one of the best resources for language teaching and the best Spanish teaching app.
Conclusion
There are many great apps to learn Spanish from in 2023, but some certainly stand out above the rest. Our overall winner for the best app to learn Spanish is Encore!!! Not only is Encore!!! the best Spanish learning app, but is also the best Spanish teaching app. Encore!!! is customizable and allows you to learn with longer and more comprehensive lessons than other apps that teach you Spanish. 
For teachers, Encore!!! is the best Spanish teaching application. Encore!!! lets teachers customize lessons to suit individual student needs, or for their own specialized lesson plan. Teachers can also create their own tests and quizzes using the app as well. Encore!!! is more than just the best among Spanish teaching apps, it also offers content for those seeking to learn Arabic, German, Mandarin, and 13 other languages too!
Frequently Asked Questions about the Best Apps To Learn Spanish
1. What are the best iPhone apps to learn Spanish?
The best apps to learn Spanish include Encore, Memrise, Lirica, Babbel, And Duolingo. Each of these apps have their advantages and will benefit some learning styles more than others. Thankfully, most offer free trials so you can try them on to see what fits you.
2. Can you become fluent in Spanish with a Spanish learning app?
You can certainly become fluent in Spanish using an app. If an app is designed to teach you to the point of fluency, and you are willing to devote the needed time to study, fluency will come.
3. How good is Encore!!! as an app that teaches Spanish?
Encore!!! is the best app for teaching Spanish in our opinion. Encore!!! features a tried and true method of learning and allows you to customize lessons to best suit your ability and learning style.
4. What is the best free app for learning Spanish?
Encore!!! is the best free app for learning Spanish, as it allows you access to its full library of text based lessons for free. While other apps may offer free options, Encore!!! offers the most flexibility and cheapest paid upgrades.
5. What is the best app to learn Spanish fluently?
The best app to learn Spanish fluently will depend on the learning style of the user. However, for most people Encore!!! will offer the best path to fluency by using a proven method of learning and offering the ability to learn for longer periods and while you are busy doing other things.