Best Korean Learning Apps For All Levels
Korean has become a very popular language to learn in recent years. With the increasing popularity of Korean films, TV, and music across the globe, along with an ever growing presence in the business world, more people than ever are looking for ways to learn the Korean language. Technology has put the ability to learn languages right in the palms of our hands, and in this article we are going to look at the best Korean learning app for each type and level of potential student.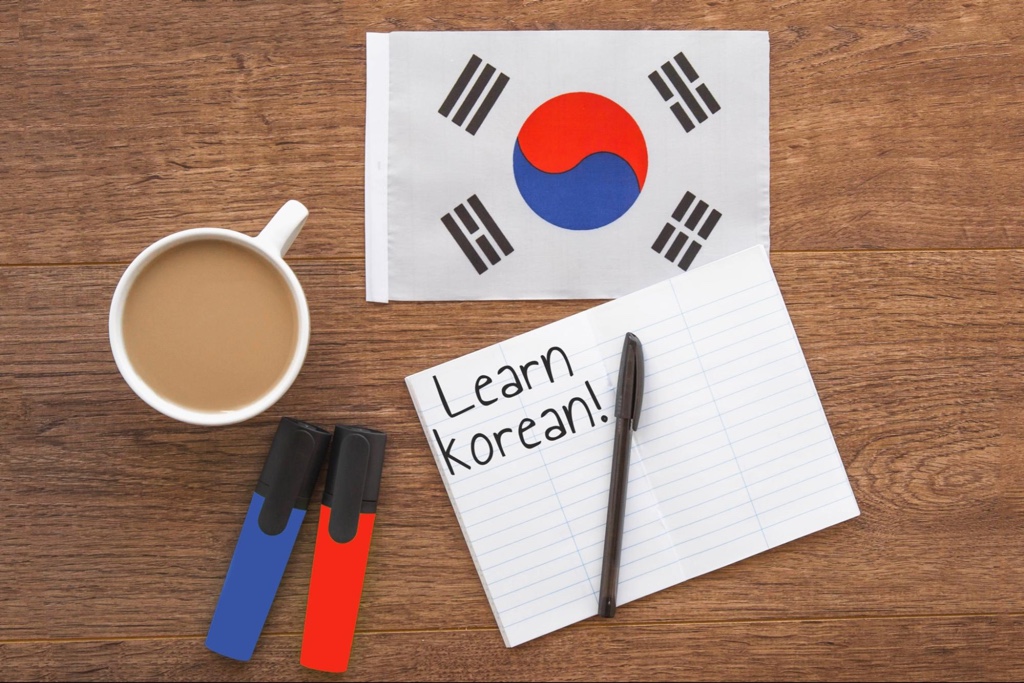 The Best Apps For Learning Korean
Apps have taken the methods that people have used to learn a new language at home, as well as in the classroom, and made them even better by making them more interactive. Not only are the lessons on these apps interactive, some of them even let you interact with other people learning the same language and native speakers too.
If you are interested in classroom learning, some of these Korean learning apps can be used synergistically with the lessons being taught in your classes.
The best apps to learn Korean are going to differ from person to person. Based on your goals, some apps may work better for you than others. In this list, we are going to rank the best apps that teach Korean overall, while also letting you know each app's strength and use for different learning styles and motivations. Hopefully this list helps you find your perfect app or combination of apps.
| | | | | | | |
| --- | --- | --- | --- | --- | --- | --- |
| | Best for | Main features | Offline learning mode | Price | Free trial | Download links |
| Encore!!! | Customization | Customizable, Ability to add your own text and audio, Make custom playlists of lessons, large content library. | Yes | $2.99 a month per language | yes | https://gurmentor.com/encore-language-learning-app/ |
| LingoDeer | Beginners with goals | Well structured lessons, grammar focused, audio from native speakers, learn korean app with l integration of cultural lessons. | Premium only | $14.99 a month or $149.00 lifetime | 1 Lesson | https://www.lingodeer.com/home |
| TenguGo Hangul | Learning Korean Writing | Learn to write Hangul, teaches history and culture, proper mouth and tongue positions for pronouncing the alphabet. | no | Free – ad supported | Free | https://apps.apple.com/app/id579740310 |
| Viki | K-Drama Fans | Learn while watching Korean TV and Movies, interactive subtitles show pronunciation and definitions of words. | no | Free- ad supportedPremium $4.99 a month | Free with ads | https://www.viki.com/ |
| Duolingo | Tourists and dabblers | Game-like lessons.Setting and achieving small goals. | Paid only | Free$6.99 a month for ad free and offline | free | https://www.duolingo.com/ |
1. Encore!!! (iOS, Android)
The Most Customizable Korean Language Learning App
Encore!!! is our all around top pick for the best Korean learning apps. The customizability of the Encore!!! app is one of the main reasons it tops our list, because it means it can fit almost every language learning level and purpose. Encore!!! is based around the L1-L2 learning method that is used in the world's top language courses. This method centers around repeating words in your native language (L1) followed by the language you are learning (L2).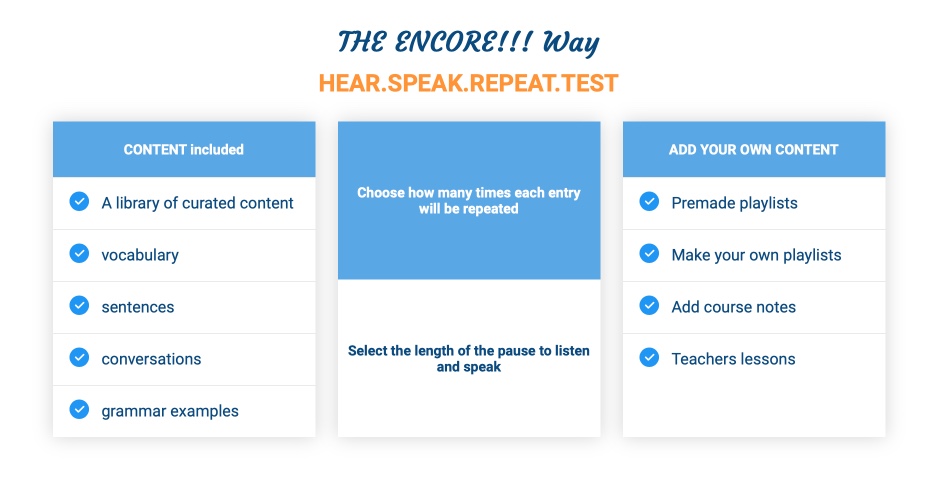 Encore!!! is an app that offers a level of flexibility that other apps just cannot. You can choose to learn targeted words and phrases if you are just seeking to improve vocabulary in a foreign language such as Korean, and you can also use the MyEntries feature to create, record, and even share your own lessons. This is fantastic for letting you record and learn translations for song lyrics, movie lines, and other immersive content.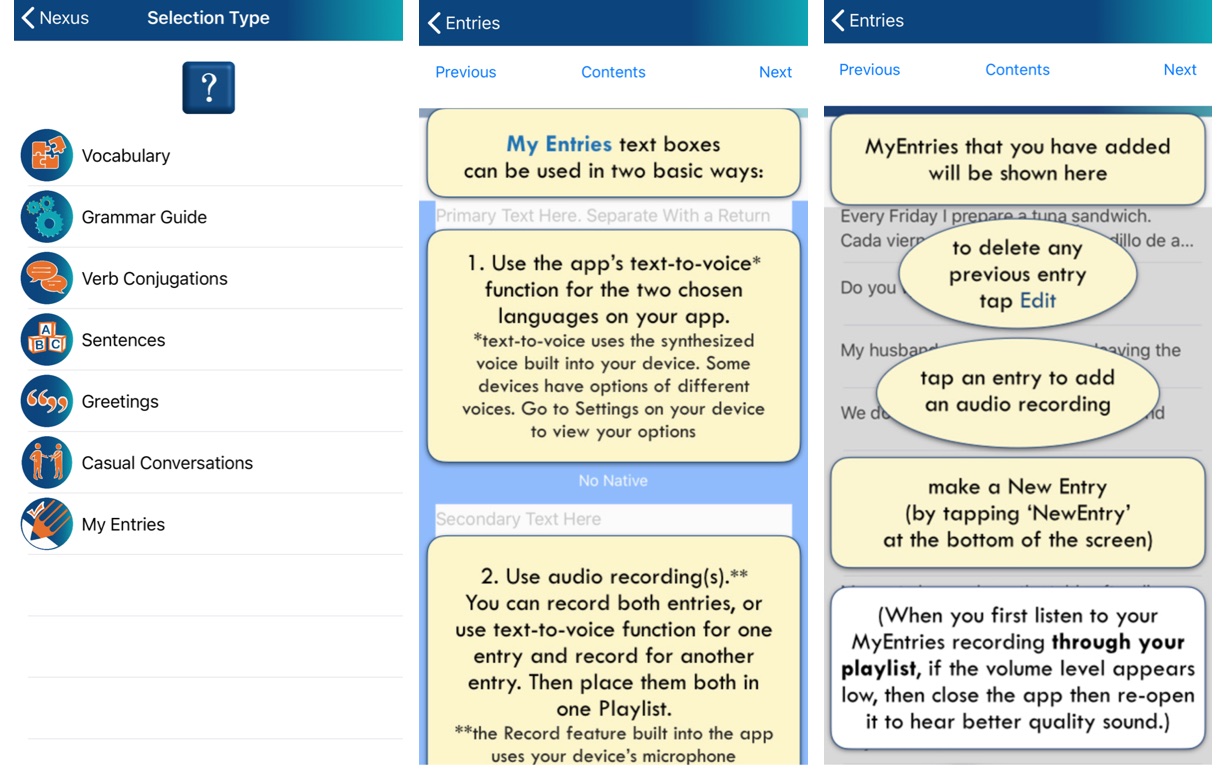 One of the other fantastic features of Encore!!! is the fact that it doesn't require constant physical interaction and does not need to be connected to the internet to use. You can use the Encore!!! app to learn Korean language lessons while doing chores, driving, at the gym, on the bus, etc. Some Korean learning apps promise that you can learn in just 15 minutes a day, but if you want to achieve fluency, Encore!!! lets you devote the hours a week that are needed to do so.
Price: Freemium (2.99 a month per language)
Pros:
Customizable
MyEntries lets you add your own text and audio
Custom lesson playlists
Large content library
Cons:
Requires a separate purchase for each language
2. LingoDeer (iOS, Android)
Best Korean Language Learning App For Beginners With Goals
If you are looking to learn Korean or other Asian languages, and you are a beginner who has a goal of achieving fluency, LingoDeer is our top choice for you and our second best choice overall. LingoDeer is built like a full language course, and the courses are designed by language teachers to offer grammar based lessons that offer detailed explanations of each lesson.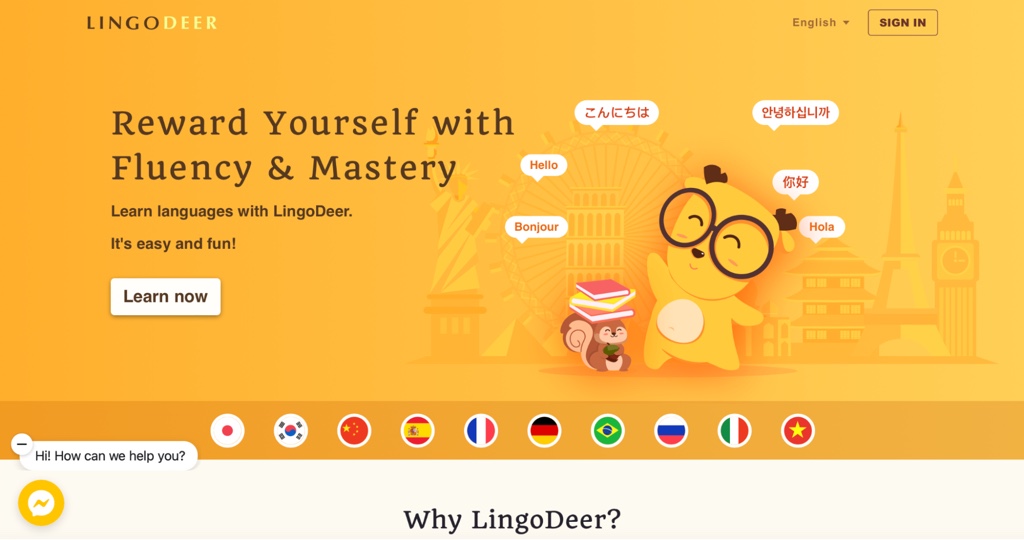 LingoDeer is a Korean learning app that builds on each lesson to ensure you have a solid foundation and have you speaking the language from day one. The app uses lessons voiced by native speakers, and is designed to teach all aspects of the language in a synergistic way. LingoDeer also integrates lessons on culture into its lessons, and this makes it stand out even more over others. Culture is important to understanding language, and integrating it with lessons that include grammar and vocabulary helps LingoDeer reach our number 2 spot solidly.
LingoDeer is an app that requires interaction, but it does so in an engaging way that lets you make the most of your time using it. While you might not be able to use it everywhere you go, if you make the time to spend with it you will get the most out of your lessons. Thankfully the lessons are kept at a comfortable and easy length to make it easy to find the time to fit them into your day.
LingoDeer is available in several Asian languages so you can use it to learn Mandarin Chinese, Japanese, Vietnamese and even a few European languages along with Korean.
Price: Free trial of one lesson, then $14.99/mo or $159.00 lifetime
Pros:
Great for building a strong foundation
Lessons integrate grammar along with vocabulary
Cultural lessons
Audio recorded by native speakers
Cons:
Cost is on the high end for apps
Requires interaction and internet for most lessons
3. TenguGo Hangul (iOS)
Best App For Learning Korean Writing
One of the problems with a lot of apps and classes that teach Korean online, is that they focus mostly on the spoken language. Korea's written language is known as Hangul, and TenguGo Hangul is an app that is made for teaching you how to read and write in Hangul. TenguGo Hangul starts off by teaching you the history and the structure of the written Korean language.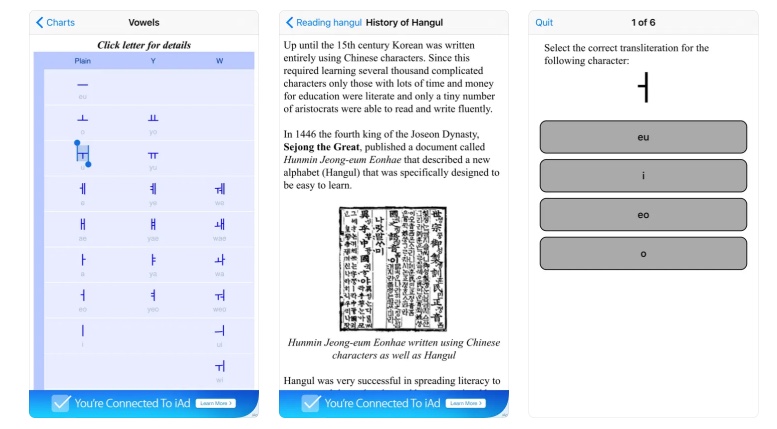 TenguGo Hangul teaches you the Korean alphabet, how each letter is pronounced, and how to read and write the Korean language using quizzes, flashcards, and lessons. It even shows you the correct tongue and mouth positions using animations.
This app makes a great companion to any other Korean language learning app on our list because of its unique focus on written language. Best of all, it is totally free, though it is supported by advertisements.
Price: Free
Pros:
Learn to write in Hangul
Understand the cultural meaning and history of the Korean written language
Free!
Makes a great companion app
Cons:
Not a great standalone Korean language learning app
4. Viki (iOS, Android)
Best Korean Language Learning App for K-Drama Fans
Immersion is one of the best ways to learn any language, and watching content in the language you are trying to learn is a great way to immerse yourself. Fans of K-Dramas (Korean dramatic television series and films) are in for a treat with the Viki app made by Rakuten. We often recommend using apps such as Netflix or Hulu as a language immersion app, using subtitles and foriegn language programming. However, Viki takes that method and makes it even better for learning by actually offering a "learn mode."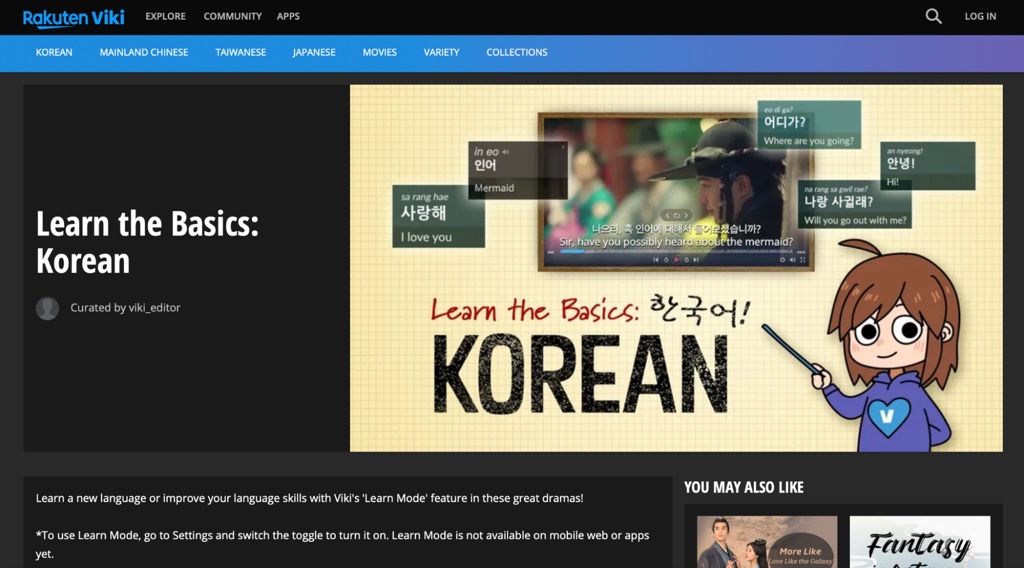 Viki lets you watch your favorite K-Dramas with subtitles in both the native language of the show and your chosen language at the same time. You can then interact with words to get definitions and pronunciations. This means you can engage in Korean culture by watching TV shows and movies while learning the language at the same time.
Viki is an app that will be most effective when used with other Korean learning apps, to help you build upon your lessons with this immersive content. It is certainly one of the most entertaining apps to learn Korean language lessons from.
Price: Free with ads or $4.99/mo
Pros:
Learn while watching Korean made content
Engage with culture as you learn
Hours of free content
Interactive subtitles
Cons:
Best if you already have a foundation
No structured lessons
5. Duolingo (iOS, Android, Web)
Best Korean Learning App For Tourists and Dabblers
Duolingo is one of the most popular language learning apps in the world. It promises fluency in a short amount of time by using pocket sized lessons that can be done in 5 to 20 minutes a day. While we cannot speak to its promises of fluency, we can say that those short lessons are engaging, and the game-like tracking of goals helps to encourage you to come back for more either by beating your goals, keeping up a streak, or competing with others on a leaderboard.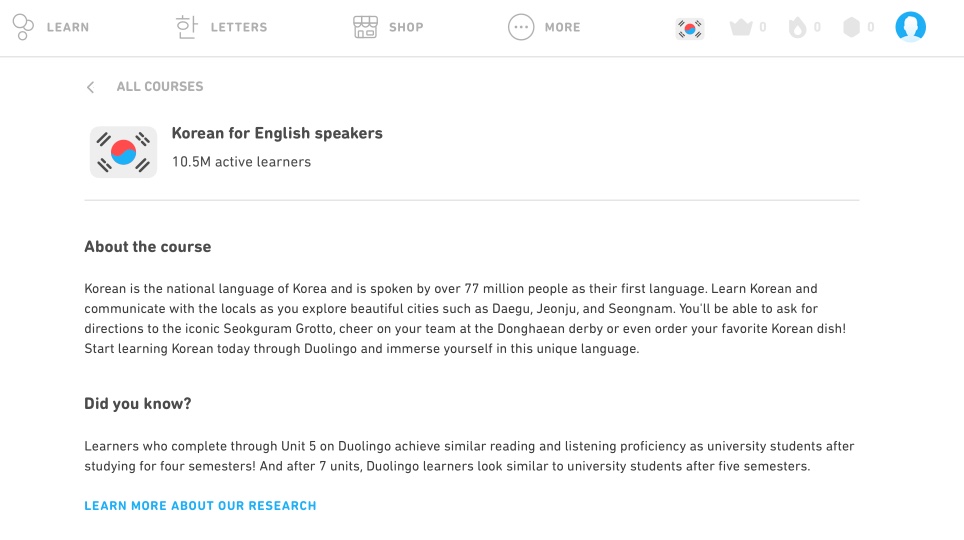 Duolingo might not be our top app choice, but it is a fantastic app for learners who are looking to learn enough of a language to enjoy a nice visit to a country and exchange some simple conversations. It is one of the best language learning resources for tourists, and those whose goals are not full fluency. It does work as a fantastic supplement to other apps, an in person class, or to refresh your existing knowledge.
Price: Free with a paid option with no ads and offline learning (Duolingo Plus at $6.99/month)
Pros:
All content available for free
Fun and game-like
Good for limited schedules
Good for vocabulary
Cons:
Offline is paid only
Limited grammar lessons
Too short to achieve fluency
Bonus: Best App For Korean Teachers – Encore!!!
For teachers wondering how to teach Korean with an app, Encore!!! holds the key! Encore!!! lets teachers design their own curriculum and create lessons with the MyEntries feature. When trying to teach a foreign language, it is important to be able to adapt your lessons to your class and your students' needs and abilities.
Encore!!! is an excellent answer for teachers looking for how to teach basic Korean, and all the way to advanced, using an app. Teachers can even make examinations and quizzes on Encore!!! too.
Conclusion
Korean is a beautiful language to learn, and thankfully with the choices of apps available to us in 2023 we can learn Korean in many different ways. In this article, we went over the apps that we found were the best apps to learn Korean, and gave you the best apps in their categories so you can choose the right app or combination of apps for you. 
Encore!!! is our overall choice for learning Korean with an app. Its flexibility and customizability lets you learn Korean in a way that works best for you, wherever you want, and while you are doing your daily chores or commute. For teachers, Encore!!! offers the ability to design specialized lessons, tests, and quizzes right in the app. Give Encore!!! a try and you will see why we rank it so high too!
FAQ About The Best Korean Learning Apps
What is the best free app to learn Korean?
The free version of Encore!!! is a fantastic way to get your start learning the Korean language. You can also use the free app TenguGo Hangul to teach how to read and write Korean at the same time.
What is the best app to learn Korean for beginners?
Encore!!! is an app that will teach language learners from beginner to advanced to speak Korean. Beginners can also benefit from the LingoDeer app which helps you further develop the building blocks of vocabulary and grammar.
How can I learn Korean very fast?
The best way to learn Korean very fast is to spend as much time as possible learning and practicing. Encore!!! is an app you can use throughout your day to help you learn and practice. When not actively learning you can also watch content in Korean to immerse yourself in the language.
Can I learn Korean by myself?
You can definitely learn Korean by yourself. With apps such as Encore!!! at your disposal it is possible to learn a language on your own time and in a way that works best for you. The more you practice and interact with the language, the more you will learn.